PRINT THIS ARTICLE
SPEED LINES
---
Trend Reversal for the Nasdaq?
06/02/00 02:44:42 PM
---
by Jayanthi Gopalakrishnan
---
Does the action in the Nasdaq Composite during the last few days indicate a trend reversal?
Security:
$COMPQ
Position:
N/A
Speed resistance lines are effective in determining support and resistance levels as well as whether a major trend is reversing or correcting.


Most technical analysis software includes the speed resistance line tool which will generate three speed resistance lines. The first connects the major high and low, then two other lines are generated at one-third and two-thirds the distance between the major high and low.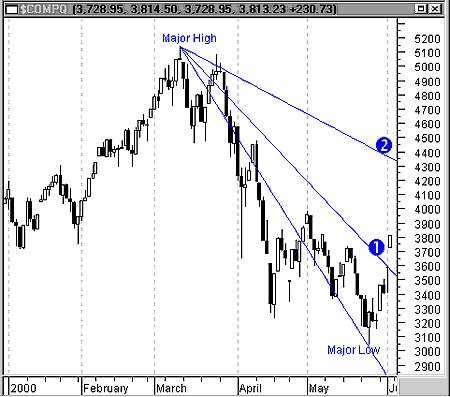 Speed resistance lines can be used to determine if a current trend is reversing or correcting.
Graphic provided by: MetaStock.
The chart of the NASDAQ composite shows the speed resistance lines drawn from the major high to major low of the downward sloping trend. The point labeled 1 is the 2/3 line and the point labeled 2 is the 1/3 line. The 2/3 line is the first resistance point. If prices break out above this line for two consecutive days it is likely the trend will reverse. The 2/3 line will then become a support level. On 6/2/00 the Nasdaq gapped up and stayed well above the 2/3 line. If it had stayed below the 2/3 line, it would have indicated that the upward movement was just a short-term correction.


Today's upward gap in the Nasdaq seems to have restored bullish sentiment in the technology sector with several issues seeing sharp gains. If the index holds above the 2/3 line on the following trading day (6/5/00) the 1/3 line will be the next resistance level.


---
Jayanthi Gopalakrishnan
---
Click here for more information about our publications!
Comments
PRINT THIS ARTICLE