A little over a month ago, I announced: "If you found yourself missing the glory days of greenback gloom and doom, then have I got a symmetrical triangle for you!" On the business end of that symmetrical triangle, I opined, was a decline that was likely to see the dollar make a major test of the year-to-date lows.


What was major about these lows wasn't just that they were year-to-date lows -- which was significant enough. No, what was truly MAJOR about the anticipated lows resulting from a downside break from the symmetrical triangle was that a breach of the early 2004 lows would set up a test of the dollar's lows from 1995.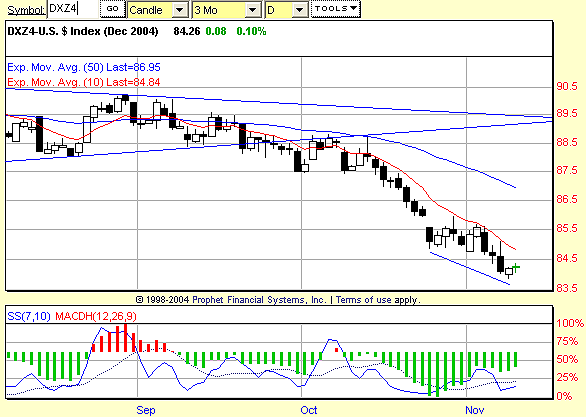 Figure 1: US Dollar Index. A positive stochastic divergence suggests that the breakdown from the three-month symmetrical triangle may have all but run its course.
Graphic provided by: Prophet Financial, Inc.
But a funny thing is happening en route to the dollar's doomsday destiny. As the greenback (shown here in the December futures contract) made its historic low early in November, the 7,10 stochastic was making a higher low (vis-a-vis the October low). In fact, in the same way that the Dow Jones industrials and Standard & Poor's 500 featured a multitrough, running positive divergence back near the end of October (see my "Divergences And The Bush Bounce," Traders.com Advantage, November 9, 2004), the December greenback appears to be making a similarly multipartite positive divergences.


Huh? Note how, toward the end of October, the 7,10 stochastic makes a major low trough (the lowest trough for the month) and then, just as the month is ending, makes a higher stochastic trough while the December greenback is making a lower low (the specific date is November 1). This positive divergence did not translate into immediately higher prices, as the December dollar moved to new lows. But, importantly perhaps, the 7,10 stochastic did not -- and remained above the low of the lower October stochastic trough.


Stocks have been known to power through divergences if the animal spirits -- be they bull or bear -- demand it (see my "Defying The Divergence," Traders.com Advantage, September 28, 2004, for a primer on how long this kind of defiance can last). Yet with a hike in short-term interest rates likely at the coming Federal Reserve Board meeting, and a broadening consensus that higher interest rates across the board are more likely than not (see Chris Manuell's "Five-Year Note Double Bottom," Traders.com Advantage, November 9, 2004 for a sound technical case for higher rates), we will have only ourselves to blame if we are caught unawares by any sudden and surprising strength in the greenback.