PRINT THIS ARTICLE
TECHNICAL ANALYSIS
---
DJTA , DJIA, And Divergence
11/01/04 01:31:08 PM
---
by Chris Manuell
---
The Dow Jones Transportation Average has recently recorded yearly highs marking a distinct divergence with the Dow Jones Industrial Average, which has recently bounced from a yearly low. Can this divergence be sustained?
Security:
DJIA, DJTA
Position:
N/A
The Dow Jones Transportation Average (DJTA) is extremely sensitive to the economic environment, with the volume of business and interest rates an important factor. Historically, it has provided a lead at important junctures for the Dow Jones Industrial Average (DJIA). The Dow transports is also an important link in a tenet of the Dow theory that states that "the averages must confirm each other." Essentially, no important bull or bear market signal could come about unless both averages provided the same signal. Ironically, as the Dow industrials recorded a yearly low on October 22, the Dow transports was completing a fresh high. Can this divergence be sustained, or will the Dow industrials enjoy a historical bounce in October? Since World War II, 10 bear markets have bottomed in October, according to Jeffrey Hirsch in the November issue of STOCKS & COMMODITIES interview, "The Chronicler Of Change" (conducted by Jayanthi Gopalakrishnan).


The Dow transports witnessed an explosive spurt of volume in the last week of October as it traded near record highs; this was demonstrated on the daily chart as the volume easily surpassed its 60-day exponential moving average (EMA). The price, however, displays a different short-term picture with the final three bars showing consecutive declining ranges, which could hint at bullish fatigue. The volume oscillator, which is calculated by dividing short-term measure of the volume trend by a longer-term one, has reversed from an overbought reading.

The sharp correction in January was also marked by a similar signal in the volume oscillator. This often leads to a reversal in price as it highlights exhaustion. A reversal from a high level can also signify a change in trend, which may result in a consolidation period as the Dow industrials plays catch up.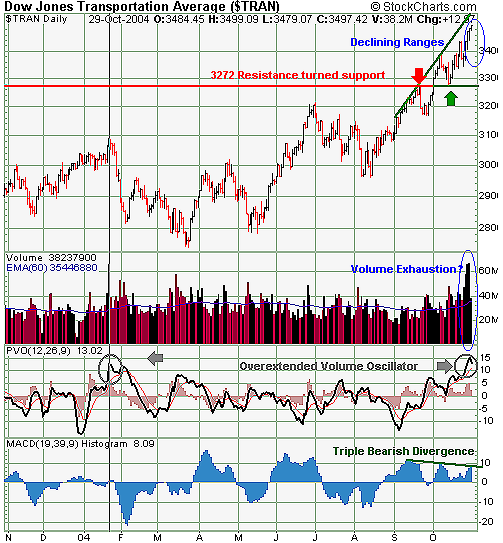 Figure 1: Dow Jones Transportation Average, daily chart
Graphic provided by: StockCharts.com.
A reversal in the Dow transports would also require a trend change in the price level; this would require a breach of an important support line, trendline, or a downturn in the longer-term moving average. The support level at 3272 may provide the trader with an important guidepost -- this level was resistance in mid-September and then turned into support in mid-October. A closing violation of this level would support the reversal case in the trend, as opposed to a change in the trend that may result due to the bullish fatigue.


The moving average convergence/divergence (MACD) histogram has also provided a cautionary flag to a market that is enduring bullish fatigue with a triple divergence. A triple bearish divergence consists of three rising price tops with lower corresponding MACD tops -- even stronger than normal divergences.


In summary, the marked divergence in the Dow transports and Dow industrials may be coming to an end as the transports appears to be suffering from bullish fatigue. A major trend reversal in price is needed for the transports to track the industrials lower; otherwise, a stall in the transports should allow the Industrials to play catch-up.


---
Chris Manuell
Chris Manuell spent 7 years as a futures sales/trader for a large investment bank and more recently as a technical analyst for an independent research company. He has a bachelor of economics and graduate diploma in applied finance & investment. Currently enrolled in the CMT program with the MTA.

| | |
| --- | --- |
| | |
| E-mail address: | chrismanuell5@yahoo.co.uk |
---
Click here for more information about our publications!
Comments
Date:
 11/04/04
Rank:
 3
Comment:
PRINT THIS ARTICLE