PRINT THIS ARTICLE
DOW THEORY
---
Dow Theory And The September Highs
10/05/04 11:14:18 AM
---
by David Penn
---
Another nonconfirmation to the upside keeps the question marks in place.
Security:
$INDU, $TRAN
Position:
N/A
Is the bear backed into a corner? That was the assessment of Dow theorist and cycle analyst Tim Wood in his regular weekend wrapup with financial commentator Jim Puplava of Financialsense.com. In a recent article for Working-Money.com, I suggested something similar in noting the simultaneous breaking of the August highs on September 2 by both the Dow industrials and Dow transports. While I did not want to call that confirmed move to the upside a new buy signal (too many other factors outweigh that call, in my opinion), I did warn that such a move to the upside hearkened back to the bullishness of late 2003.


But a close look at the industrials and transports at present seems to caution too much enthusiasm about the market's bullish prospects. I had suggested earlier that the next important Dow theory confirmation test would occur when the industrials and transports took on their August lows. However, late in September, both the industrials and transports found intermediate bottoms and began moving higher. The transports began October with a new high vis-a-vis September. The industrials have yet to do so.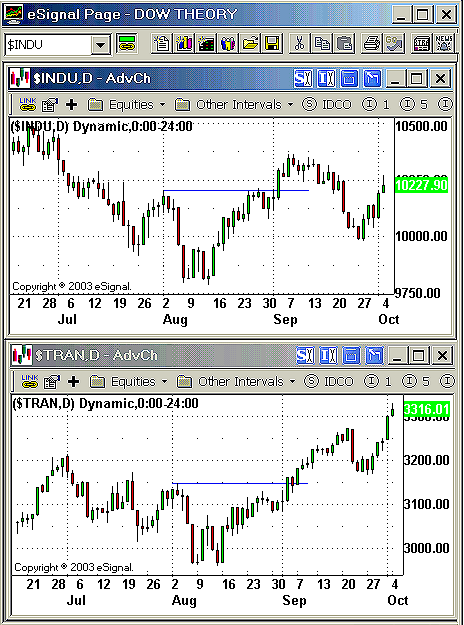 Figure 1: Simultaneous early September breakouts in the industrials and transports set up an upside nonconfirmation in October, if the industrials can follow the transports to new highs.
Graphic provided by: eSignal.
So to follow up on the Working-Money.com piece ("The Dow Days of Summer," Working-Money.com, September 1, 2004), the next Dow theory event will now be a likely nonevent -- namely, the industrials' failure to take out the September highs (the transports did so on October 1). Following that upside nonconfirmation, look for a test of the September lows. A confirmed move below the September lows would reinvigorate the sell signal from earlier in the year, and likely set up a test of the August lows shortly thereafter.


While the outlook remains bearish on the intermediate term, it must be noted that a new September high in the industrials would be powerfully bullish (assuming the transports did not simultaneously retreat). There is formidable resistance ahead of the industrial's current rally -- resistance located principally in the 10250 range. This resistance developed at the top of the August rally, which is perhaps another reason bulls should be wary of traveling to levels upon which the market of late has not had the confidence to tread.


---
David Penn
Technical Writer for Technical Analysis of STOCKS & COMMODITIES magazine, Working-Money.com, and Traders.com Advantage.
---
Click here for more information about our publications!
Comments
Date:
 10/06/04
Rank:
 4
Comment:
PRINT THIS ARTICLE