PRINT THIS ARTICLE
SUPPORT & RESISTANCE
---
Great Selling Opportunity
05/24/00 10:50:47 AM
---
by Jason K. Hutson
---
Investors were knocked down on day two of a summation week for Wall Street. It is do or die time. Is it time to get busy buying or start that selling spree?
Security:
S&P 500 Index
Position:
Sell
These are very cautious times for investors. A large number of price levels for many securities have dipped below major primary support levels. At times like this it is necessary to closely monitor the next (secondary) support levels, especially on the broader indices. The chart of the S&P 500 Index shows a clear support level at the green trendline. If the S&P 500 breaks below this line within the next few days, it is possible for the S&P 500 Index to fall as low as 1235 points.


If the index fell below this support level, it indicates that it is not an ideal time to enter long positions. But if the index bounces off this level then it may suggest a reversal. However, I would wait for the index to break above the red, downward-sloping trendline for a confirmation signal.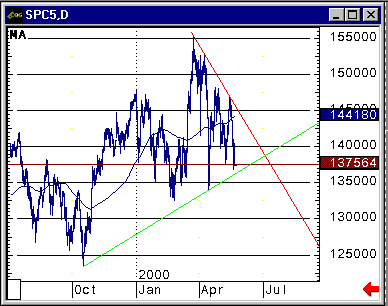 Notice the 50-day moving average has not yet headed down. According to the moving average, price levels have not gone below those set in January, 2000.
Graphic provided by: CQG.
---
Jason K. Hutson
Traders.com Staff Writer. Enjoys trendlines, support and resistance, moving averages, RSI, MACD, ADX, Bollinger bands, parabolic SAR, chart formations, and volume analysis.

---
Click here for more information about our publications!
Comments
PRINT THIS ARTICLE