While it is true that technical analysts can become confused if they rely on too many technical tools, it is no less true that using technical tools in combination can provide clearer clues than the same tools used individually. This is especially so if the tools look at different aspects of the same thing.


It is probably way too early to begin thinking about a double bottom in shares of Altria Group, the corporation formerly known as Phillip Morris. And the absence of any clear positive divergence with the 7, 10 stochastic provided in Figure 1 makes the case for a sustained move up from the September lows that much less forceful. But the appearance of a successful test of bottom does give more aggressive traders some reason to believe that the bounce in MO shares that began late in September will result in something more than a mere bounce.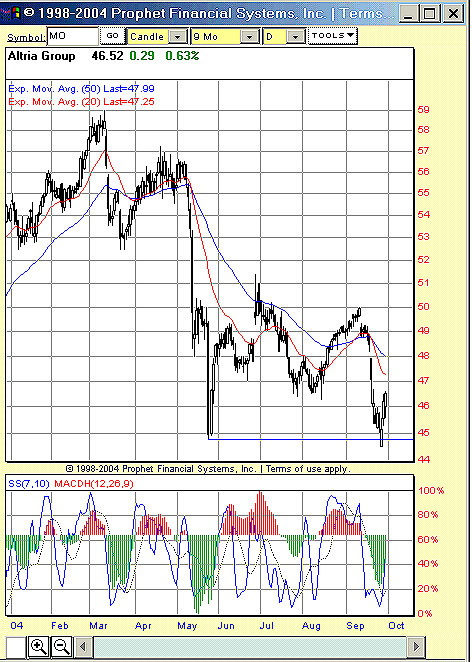 Figure 1: The lack of followthrough on the test of the May lows may be the first indication that shares of Altria Group are ready to move higher.
Graphic provided by: Prophet Financial Systems, Inc..
This test of bottom has been referred to in a variety of ways. Market Wizard Victor Sperandeo called it the "2B test of bottom" when he wrote about it in his METHODS OF A WALL STREET MASTER. Laurence Connors called it the "Turtle Soup" and "Turtle Soup Plus One" in STREET SMARTS, the book he coauthored with Linda Bradford Raschke. Essentially, what both methods are trying to get traders and investors to focus on is the failure of a market to follow through once a significant milepost -- such as a new low or new high -- is made. In short, if a market makes a new low, but prices fail to continue making new lows and, instead, begin to rally, there is a "trader's chance" that the market is setting up a reversal -- in this case, a reversal to the upside.

In the case of Altria Group, note the second low in late September. Note how -- as the bottom is put -- the market opens lower, but then closes higher. Nevertheless, this lower low (vis-a-vis the May low) was enough to set up a 2B test/Turtle Soup scenario. The question was: will MO follow up with lower lows in September? So far, two days since the lower low, the answer has been no. As such, with a stop just below the lows of the lower low day (approximately 44.50), the aggressive trader could consider going long.



I mentioned the possibility of a double bottom. One thing I do believe is supportive of a double bottom is that MO has made two distinct bottoms. Often, anxious traders chase double bottoms with troughs so close together in time that it is easy to wonder if there is really just one bottom -- only with two parts. That would help explain the failure of such double bottoms to produce strong and lasting breakouts.


But that problem is hardly in evidence here, as Altria Group has developed a May/September spread between its troughs. Again, MO will require another five points of upside to even test the top of any double bottom -- and those aggressive traders acquiring shares now will likely be the same traders selling shares if MO does climb that five points from the mid-40s to the 50-51 area (a more than 10% gain based on today's close). Nevertheless, if the notion of a double bottom breakout sending shares of MO hurtling toward a test of the April highs near 57, or the year-to-date highs near 59, are what it takes to motivate a bit of bottom-feeding here at lower levels, consider yourself motivated.