PRINT THIS ARTICLE
DAY TRADING
---
Day Trading Basics Part 1
05/18/00 02:34:11 PM
---
by Jayanthi Gopalakrishnan
---
The first thing to do before making any trading decisions, whether it is day trading or position trading, is to study the general picture of the market. Your objective should be to trade with the direction of the market. Once you determine this, the next step is to select individual securities to place on your watch list.
Security:
N/A
Position:
N/A
After the close on May 17, 2000, I studied the daily chart of the Nasdaq 100 June contracts. Traders closely watch this chart because the activity in the futures pits acts as a leading indicator for the direction of stocks. A display of this chart is below.


There are always two possibilities when it comes to determining the next trading day's price movement: either prices will go up or they will drift lower. You always have to prepare yourself for both scenarios since the market is just as likely to go one way as the other.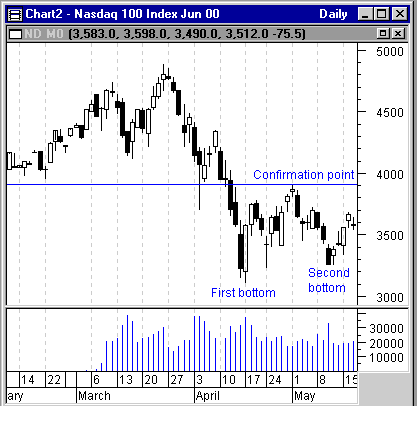 Day traders closely watch the Nasdaq 100 futures contract to get an edge on the direction of Nasdaq traded stocks.
Graphic provided by: MetaStock.
In this case, if prices move up it is possible that a double-bottom may form. If prices drift lower it is possible that they may try and retest the lows around the 3200 level and possibly form a triple-bottom. The two bottoms and a confirmation point are labeled on the chart. If prices break above the confirmation point with a significant increase in volume, it suggests that a trend reversal is likely.


It is important to keep an eye on pre-market activity since this will clue you in on which way the market will open and which stocks exhibit the greatest momentum. Make a list of potential longs and shorts so you can take advantage of both.


In Part 2 of this series on day trading basics, I will show you how to select the stocks to place on your watch list.


---
Jayanthi Gopalakrishnan
---
Click here for more information about our publications!
PRINT THIS ARTICLE