(With apologies to Ntozake Shange ...)

A quintessentially Texas put-down suggests that an antagonist is "all hat and no cattle." But traders have been talking more and more about cattle as both live and feeder cattle futures rocket toward highs not seen anywhere else in the commodities market -- outside of the energies, that is.

In fact, based on continuous futures, it could be readily argued that cattle futures have been in a bull market since the spring of 2002, when these futures bottomed near 70 cents. Feeder cattle recently traded as high as $1.16, which approximates a more than 65% gain over about two and a half years.



Generally speaking, this bull market is no spring chicken. And as cattle futures stalled a bit in the summer of 2004, media reports about the demise of big-time cattle demand were everywhere. Cattle-friendly, "fad" diets like the South Beach and Atkins diet, suggested these reports, were on their way out. People were fed up (no pun intended) with the beef. Bring on the bagels!

Maybe so, maybe so. But in the same way that more than a few traders likely got their heads handed to them trying to short the ever-rallying energies, there will likely be a few too-close haircuts for those traders who try to top tick cattle.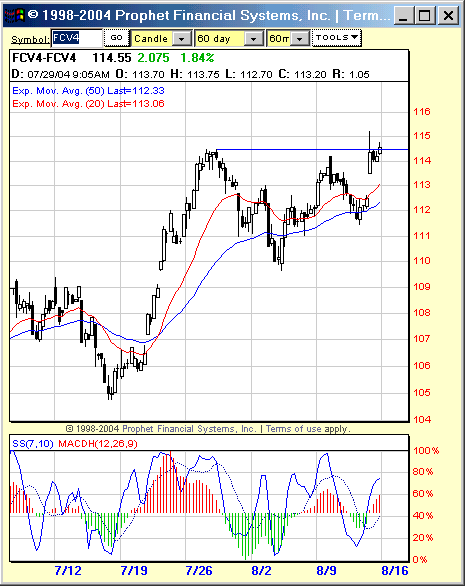 This hourly cup with handle suggests much higher prices for October feeder cattle in the near term.
Graphic provided by: Prophet Financial Systems, Inc.
If that is so, then what opportunities exist on the long side of cattle? If the short side has the odds stacked against it, then the long side must offer some sort of opportunity for profit, no?

Looking at the hourly chart of October feeder cattle, it appears as if just such an opportunity might be developing. Specifically, a cup with handle pattern has developed over the past few days -- a cup with handle pattern that could see FCV4 test the $1.20 area in an initial jolt to the upside.



Cup with handle patterns are among the classic chart patterns like head and shoulders, triangles and double bottoms and double tops. Popularized by William O'Neil in his book, How to Make Money in Stocks, cup with handle patterns often anticipate powerful moves to the upside, and have been used to great success in locating those stocks that are most prepared to break free from consolidation ranges and bases. That same theory of cup with handle patterns can be readily applied to futures contracts, such as October feeder cattle.


In the case of FCV4, the cup with handle began in late July and appears to have been completed by mid-August. The formation size is about 4.5 points, with horizontal resistance at 114.5 and the lowest point in the pattern being at about 110. As such, any upside breakout from this pattern should be expected to reach at least 119 in an initial move. The fact that prices have gapped up into the resistance/breakout level suggests that prices have sufficient buying power behind them to propel FCV4 higher. What remains to be seen is whether or not there will be additional follow-through to the upside in the days to come.