PRINT THIS ARTICLE
COMMON OR AREA GAP
---
Common Gap
05/17/00 08:57:18 AM
---
by Jayanthi Gopalakrishnan
---
Common Gap
Security:
N/A
Position:
N/A
Common gaps occur in areas of congestion, usually when prices are moving sideways. Prices will gap up or down and close quickly. As the name suggests, they are common. Volume on the day of a gap is usually high but returns to normal within a day or so.


In the chart below notice how both gaps were filled within few days. If you can identify these gaps, you can use them as a factor in making your trading decisions. For example, on 5/16/00 Sun Microsystems [SUNW] had a gap in prices. On the following trading day prices did not continue moving up, instead they reveresed suggesting that the gap would be filled. This would have been an ideal time to short the stock for a gain of a couple of points.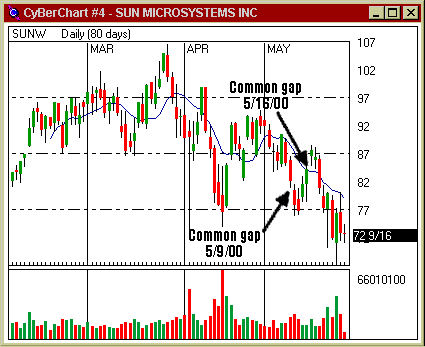 This chart of Sun Microsystems Inc. [SUNW] shows two common gaps, the first occuring on May 9th, then again on the 16th.
---
Jayanthi Gopalakrishnan
---
Click here for more information about our publications!
Comments
PRINT THIS ARTICLE