A little over a month ago, I wrote about the ability of the S&P 500 to advance in the face of multiple negative divergences ("Denying the Divergence," Traders.com Advantage, June 29, 2004). At the time, the S&P 500 had formed successively higher peaks on May 27th, June 8th, and June 24th (intraday). Simultaneously, however, the 7, 10 stochastic was forming a series of successively lower peaks.


At the time I wrote, "technicians who have come to love the certainty of divergences have been forced to confront the reality of a rally that may be close but is not yet ready to call it a day."

The S&P broke down two days later.

One month and 30 S&P 500 points later, we find a similar scenario developing -- only this time, the negative divergences appear on the hourly chart, as opposed to the daily.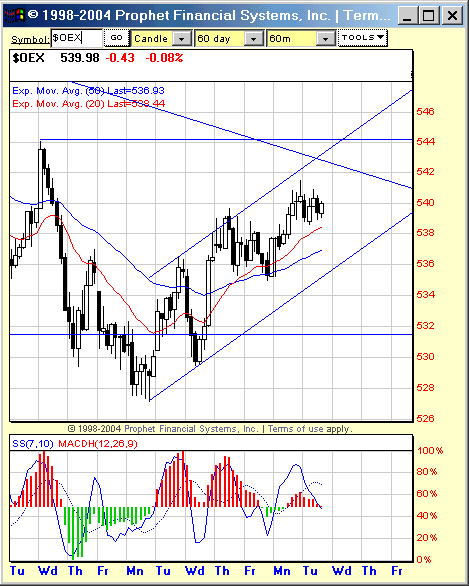 A trio of successively lower stochastic peaks as the $OEX moves successively higher argues against a sustained advance.
Graphic provided by: Prophet Financial Systems, Inc.
The $OEX, or S&P 100, has been in rally mode along with most of the market since the beginning of the Democratic convention. Given the size of the decline that preceded this rally (a decline most recently discussed in my Traders.com Advantage article, "Journey To The End Of The Diamond," from July 28, 2004) and the fact that prices were trading below the 20- and 50-hour exponential moving averages, most observers knew that any "bounce" would be just that -- a bounce.


And the growing negative divergence only underscores that interpretation. I had hesitated to mention this divergence until I saw the 7, 10 stochastic turn down on Tuesday, August 3rd. But with the stochastic turning down sharply so far this morning, it is clear that the third consecutively lower stochastic peak will arrive just as the $OEX is making its third consecutively higher hourly peak.


It took only a few days after the market made its second negative divergence in June for the market to break. If the future bears any resemblance to the past, then we should not be surprised if the present pair of hourly negative stochastic divergences results in a similarly downward outcome for the $OEX.

Full disclosure: Author is long $OEX puts as of this writing.