As has been widely publicized, crude oil has been in a steady uptrend since early 2003, with the trend being guided up nicely by a bullish channel since fall of 2003. Today, oil set a new all-time NYMEX high of $43.05, indicating that the uptrend is still on. However, there are also some textbook indications that the trend may not be as healthy as it appears.


First, looking at two common oscillators, stochastics and the MACD, we see that neither of these indicators has made a new high with price. Bearish divergence on a major oscillator, much less multiple ones, often spells trouble for an uptrend. Granted, the divergence on the stochastics is rather flat, and the divergence on the MACD may still fail, as the indicator hasn't quite turned the corner, but the current situation certainly warrants our suspicion.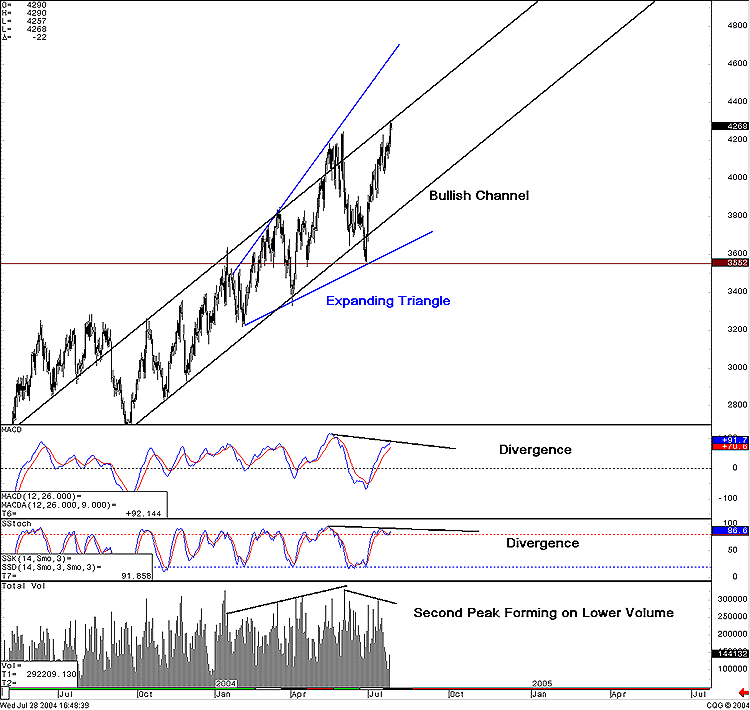 NYMEX Crude, Daily Continuous
Graphic provided by: CQG Net.
Second, prices have also evolved into an expanding triangle, much like the one we saw on the natural gas chart. Expanding triangles are typically indicators of an emotional market, swinging successively wider, as more and more players are pulled into the market on hype. (The recent atmosphere of worries about Middle East unrest, dwindling reserves, and insufficient refinement capacity should surely count as an emotional market.) The swings in this latest market were especially bold given the unusually strong penetrations of the aforementioned bullish channel perimeter, all of which later reversed. Further confirming the relevance of this triangle has been the uptrend in volume since January. Expanding triangles are also generally bearish, as the frenzy they represent often exhausts the buying pressure that forms them.


Finally, though still a good bit shy of a confirmation, this latest rise may be part a double top reversal. Although volume indeed increased throughout most of the life of the expanding triangle, now a second crude peak seems to be forming on lower volume, typical of double tops. If crude moves back and settles below the $35.50 level, it would confirm the double top, making the next price target $28.


So, for now, I'd recommend shorting crude and watching for tests of the bottom of the bullish channel and the expanding triangle. If the double top confirms, you'll have another big sell signal.