PRINT THIS ARTICLE
FALSE MOVES
---
A Portrait of General Electric as a 2B Test of Top
07/23/04 11:40:22 AM
---
by David Penn
---
A favorite technique for spotting potential market tops and bottoms appears as shares of General Electric test their June highs.
Security:
GE
Position:
N/A
Dangerous as picking tops and bottoms can be for the undisciplined, author and trader Victor Sperandeo had it right when he titled a chapter of his first book: "Where Fortunes are Made: Identifying a Change in Trend."

The key is discipline. No one disputes that, if a trader can determine when a top or bottom in the market has occurred, then he or she will likely be a very successful trader, indeed. No one disputes that trading discipline is both an innate ability and a learned habit or skill. What is often debated is the means to picking tops and bottoms.


Fortunately, a number of chartists and technicians have responded to this debate over the years. One of the more popular responses to this debate--from the point of view of traders who believe that while it is "impossible to buy at the lows and sell at the highs consistently," that is nevertheless "very possible to catch 60 to 80% of many intermediate-term and long-term market movements."

One choice technique is the 2B top--also referred to as Turtle Soup or Turtle Soup Plus one by trader, author and market technician Larry Connors. The 2B top method is deceptively simple, but when strict money management is used, the 2B technique (and its variants) may be more responsible for helping traders pick tops than any other method this side of a big time negative divergence.

Here, in the chart of General Electric, it appears that a 2B test of top is developing.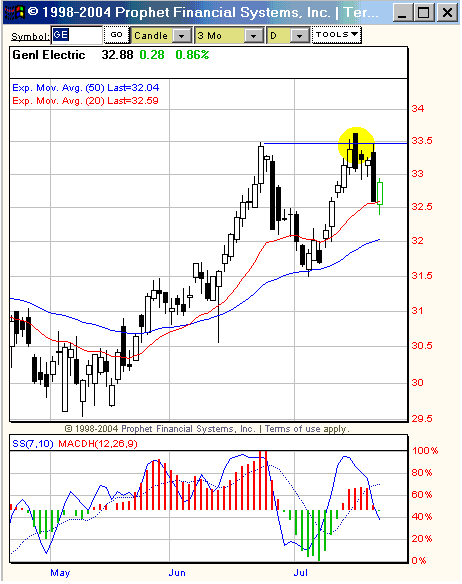 Failure to follow-through on the new intraday high in July could set the stage for a major reversal. Note also the slight negative divergence between late June and mid-July stochastic peaks.
Graphic provided by: Prophet Financial Systems, Inc.
The 2B top test exists when a higher high is made, yet there is no follow-through in subsequent days. Often, this kind of price action signified a potential reversal when prices fall back below the initial (lower) high.


Clearly a lack of follow-though has been the case here with General Electric's July higher high vis-a-vis the high in June. While a new high was made in July, there has been an obvious inability to bid prices higher--for example, so as to get a higher close in July compared to the highest close in June. The 2B top tests suggest that if a market is having a hard time establishing a new high, then it may be because the market is not ready to. And if the market is not ready to go any higher, then there is often a decent chance that the market will find an easier path in moving lower.


Support in the form of the 20- and 50-day exponential moving averages (EMAs) is the most immediate challenge to any collapse in the share price of General Electric. However, if this support does not hold, look for a move to test the July lows at 31.50. And if that level is breached, a swing rule measurement of the July advance suggests a downside of 29.5 and a test of the May lows.


---
David Penn
Technical Writer for Technical Analysis of STOCKS & COMMODITIES magazine, Working-Money.com, and Traders.com Advantage.
---
Click here for more information about our publications!
PRINT THIS ARTICLE