PRINT THIS ARTICLE
CUP WITH HANDLE
---
Silver's Cup With Handle Bottom
07/19/04 09:07:22 AM
---
by David Penn
---
After a perilous drop in April from over $8 to under $6, is silver ready to rally?
Security:
SIZ4
Position:
N/A
Once upon a time, many years ago, former Texas Governor Ann Richards famously quipped that former President George Herbert Walker Bush was "born with a silver spoon in his mouth." Today, with the son of former President George Herbert Walker Bush sitting in the White House (a son responsible for putting that "former" in front of the reference to Ms. Richards as Texas' governor), the question is whether or not a bull market in silver will be born from the cup with handle formation that has developed over the late spring and early summer of 2004.


This cup with handle formation appears to arrive in the wake of a major drop in silver futures this spring. From an intraday high of $8.35 on April 2nd, silver futures (basis December) fell to an intraday low of $5.53 by May 11th. Since that time, silver futures have scuttled along in a 60 cent range between $6.20 and about $5.60. Importantly, silver made two consecutively higher lows during this consolidation period, once in mid-June and again at the end of June.

It is the rally between these two consecutively higher lows that forms the cup with handle period, with the price action between the May 11 lows and peak between the mid-June and late June lows creating the "cup" part of the cup with handle, and the rally from the late June lows forming the "handle." Cup with handle formations are among the more well-known chart patterns -- having been popularized by William O'Neil in his book How to Make Money in Stocks.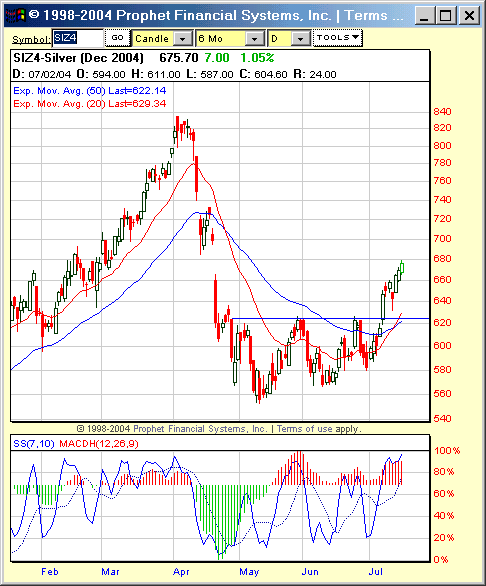 How much of the spring collapse will December silver retrace in this breakout from a cup with handle bottom?
Graphic provided by: Prophet Financial Systems, Inc..
Often, these patterns appear as continuation patterns, allowing a market to pause, letting new players to enter and old players to exit, before the ensuing movement. In a successful breakout from a cup with handle pattern, this ensuing movement is upward -- and proportionate with the size of the pattern. Thus, a pattern that is five points from low to high will tend to produce, upon successful breakout, a price movement of at least five points beyond the level of the breakout.


Cup with handles as bottoms are a bit more peculiar. But if there are supportive technicals -- such as consecutively higher lows and highs or positive stochastic divergences -- then I think that cup with handle bottoms deserve consideration as sound risk/reward opportunities for investors and traders.


In the case of the cup with handle bottom in December silver, it appears as if the breakout has begun as of July 8th at about $6.25, with prices gapping up to open that day. Prices pulled back both slightly and briefly before moving on toward the $6.80 level. Given the size of the cup with handle pattern -- approximately 60 cents -- the $6.80 level is about the minimum objective. Going forward, it remains to be seen whether the breakout will be sufficiently strong to close the gap from the April collapse (requires a rally to $7.00) -- that gap being already half-filled by the July breakout from the silver cup with handle.


---
David Penn
Technical Writer for Technical Analysis of STOCKS & COMMODITIES magazine, Working-Money.com, and Traders.com Advantage.
---
Click here for more information about our publications!
PRINT THIS ARTICLE