One of my favorite lines about trading comes from technical analyst and trader Gary Smith, currently writing for TheStreet.com/RealMoney.com. He was talking about how to find stocks that were shortable some years ago and his line: "Look for a stock that looks like a broken leg might sound or feel as it is breaking" has stuck with me ever since. It is so wonderfully unequivocal; if it looks like it might be close -- maybe just a sprain or a strain -- leave it alone. But if the stock, currency or commodity looks like all-pro quarterback Joe Theisman did back when all-pro defensive lineman Lawrence Taylor appeared to nearly sever Theisman's leg from his body during a live football contest in 1985, then as far as Gary Smith is concerned: short away.


I think of Gary Smith and broken legs (and football season!) as I look at a chart of Red Hat. For a several months during the top of the stock market bubble in 1999 and 2000, Red Hat was the dove bringing forth the olive branch of a new era of "free," open source computing that would end the dominance of Microsoft and other predatory proprietary software makers. Like a lot of things that happened at that time, Red Hat didn't exactly live up to its promise. But it was a survivor in an area of the tech/software industry in which most of the participants have long since disappeared (Linuxcare, anyone? How about VA Linux Systems which, for maybe half of a day, was the greatest IPO of all time?)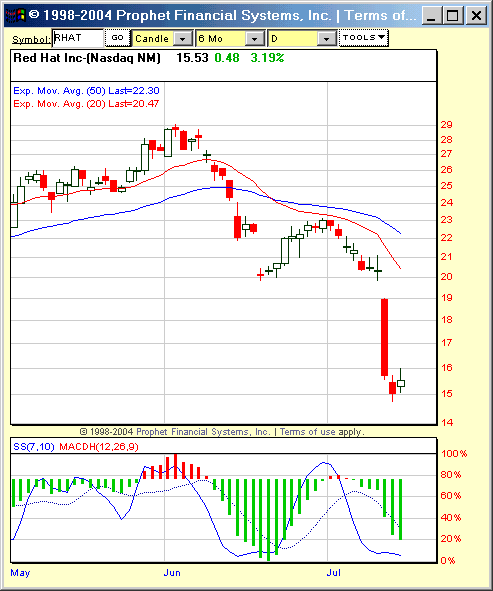 Sometimes, the second break is the best one for traders dealing with a broken stock.
Graphic provided by: Prophet Financial Systems, Inc..
Anyway, if those hard times were not hard enough, it appears that Red Hat has once again found itself in challenging circumstances. This time, it appears to be a combination of a number of fundamental factors, such as a decline in the profitability of software companies and that bugaboo from earlier in the secular bear market, "accounting irregularities."

But to the technician who cares little for such fundamental fluff, Red Hat looks like one thing: a broken leg.

When would you have most liked to have short Red Hat, or piled into a bunch of puts? The obvious answer is at the beginning of June, when Red Hat -- in retrospect -- topped out. But a less obvious answer is actually not at the beginning of June, but at the end of the month, when the stock gave a clear technical signal that it was heading lower. Sure, the signal didn't indicate that the break in Red Hat would be Joe Theisman-like. But an investor following that signal would have been warned to lighten his or her load of Red Hat. And a trader following that signal would have had more than a few pennies to rub together for his or her trouble.



I've been banging the gong on MACDH troughs all year. And the chart of Red Hat is reason to keep on swinging. Note the severely deep MACDH trough in mid-to-late June as Red Hat gapped down repeatedly and then began to rally. Such troughs are clear warnings that lower prices are likely ahead -- typically after a significant countertrend bounce. If it makes more sense to wait for stocks to break before attempting to short them, instead of trying to short them while they are still rising, then this technique of playing the post-MACDH trough bounce may have some merit.

The only question is when and under what conditions can the bounce be sold. Here I rely two factors: first, I count on intermediate term moving averages like the 20- and 50-day to provide resistance to the bounce. Second, I look for a shift in the MACDH.



Take a good look at Red Hat in late June and early July. Notice how prices rallied up to the area where the 20- and 50-day EMAs are quite close. This move also filled the gap down that had occurred at mid-month -- thus clearing the way for a resumption of the downtrend. However, I would wait until the MACDH, which barely ticked up into positive territory in early July, starts heading back down. According to my chart, that pivot bar was July 6th. And if and when Red Hat fell below the lows of July 6th by a reasonable margin (the July 6th range divided by two, for example), a short position would then become a good risk/reward speculation.

In this case, we would have been filled at about 20.82 on July 8th. Giving three to five days for such a swing-type trade (even less if the entry day is a wide-ranging day!), would allow for a profitable turn of events for the trader riding Red Hat down.