PRINT THIS ARTICLE
HEAD & SHOULDERS
---
AIG's Head And Shoulders Top
06/24/04 04:58:15 PM
---
by David Penn
---
Given the topping action in American International Group, the stock may want to take out an insurance policy on itself.
Security:
AIG
Position:
N/A
Dow component American International Group (AIG) has had quite a run since the bull market bottom of March 2003. Closing at $44.70 on March 12 of that year, AIG went on to rally to $71.61 exactly one year later, an appreciation of some 60%. From mid-March 2004 to mid-April, AIG tacked on an additional six points, closing as high as $77.36.


But an intermediate-term look at the price action in AIG since autumn 2003 suggests that this powerful rally in the stock may be nearing an end. At a minimum, the head and shoulders top that AIG appears to have developed since the year began suggests a significant correction ahead; one that could see shares of AIG trading for as low as $60 over the next few months.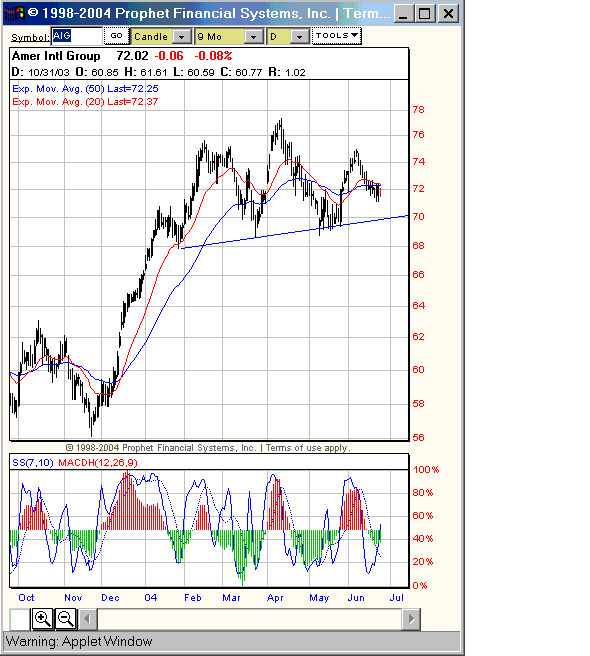 A successful breakdown from this head and shoulders top could send shares of AIG down to 60 in an initial move.
Graphic provided by: Prophet Financial Systems, Inc.
Let's take a closer look at the head and shoulders top itself. As I mentioned, the pattern spans the length of AIG year-to-date. While there is a small, would-be "left shoulder" in the late December 2003/early January 2004 time frame, the first real "left shoulder" develops between the mid-January lows, peaks early in February and declines into the mid-March lows. The "head" of the head and shoulders pattern begins in the March lows, peaks late in the month, and declines into the mid-May lows. The "right shoulder" of this pattern begins in the mid-May lows, appears to peak toward the later end of the month, and is currently declining toward a neckline support level near 70.


I am using the low point of the head-potential right shoulder trough as my neckline support level for the entire pattern, a low point of about 68.73. This neckline support level slopes upward slightly, but I believe the pattern is clear.


With a pattern top of 77.36 and a neckline at 68.73, the measurement rule for head and shoulders tops suggests that a successful breakdown beneath support will send AIG down some 8.63 points in an initial move downward. Such a breakdown would mean that AIG would test 60 before the correction is complete.


---
David Penn
Technical Writer for Technical Analysis of STOCKS & COMMODITIES magazine, Working-Money.com, and Traders.com Advantage.
---
Click here for more information about our publications!
PRINT THIS ARTICLE