PRINT THIS ARTICLE
---
Trendlines
05/16/00 10:57:06 AM
---
by Jayanthi Gopalakrishnan
---
Trendlines act as support and resistance levels in trending markets. They can be effectively utilized to determine entry and exit points.
Security:
INTC
Position:
N/A
A trendline is a straight line that joins either the tops or bottoms on a price chart. In an uptrend they are drawn through the price bottoms and act as a support level. During a downtrend, a trendline is drawn by connecting the price tops. In this case they act as a resistance level. A break in the trendline indicates a slowdown of the trend or a reversal.


An example of how to utilize them can be seen in the chart of Intel Corp. [INTC]. Here you see an upward and downward sloping trendline. Notice a break in the upward sloping trendline on April 11, 2000, after which you can see a trend reversal. This break would have been an ideal point to exit your long positions in this stock.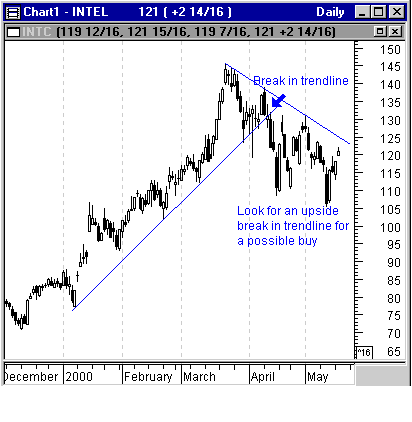 An upward and downward sloping trendline can be seen in this chart of Intel Corp. [INTC]. A break in the trendline indicates a slowing or reversal of the existing trend.
Graphic provided by: Window.
The stock is presently in a downward trend and it is a matter of waiting for a break in this downward sloping trend before entering a long position. However, if you notice resistance at this trendline, then this would be an ideal point to short the stock. To protect your losses, place a stop half a point above the trendline.


---
Jayanthi Gopalakrishnan
---
Click here for more information about our publications!
Comments
PRINT THIS ARTICLE