PRINT THIS ARTICLE
BOLLINGER BANDS
---
Squeeze, Pop Goes The S&P
03/12/04 11:35:22 AM
---
by Matt Blackman
---
For those who have been following volatility using Bollinger Bands, an interesting thing happened to the S&P500. . .
Security:
SPX
Position:
N/A
When there is a dynamic change in the market, traders can't help but ask themselves, could I have seen this coming? It is this constant "what if" post-mortem process that keeps them sharp.

In my article the LookSmart Squeeze (http://technical.traders.com/tradersonline/display.asp?art=1470), I discussed a tool covered by John Bollinger in his book Bollinger on Bollinger Bands called "The Squeeze." It is a low volatility reading that is the lowest in six-month (or longer), as demonstrated by the minimum distance between Bollinger Bands. It warns that a breakout is imminent.


As explained in the book, equities cycle between periods of high and low volatility in an endless rotation. If a stock goes through a period where it is volatile, the trader knows that a period of low volatility is coming and vice-versa. The lower the volatility and the longer it stays that way, the more explosive the ensuing breakout. The trick is then determining which way the equity will break.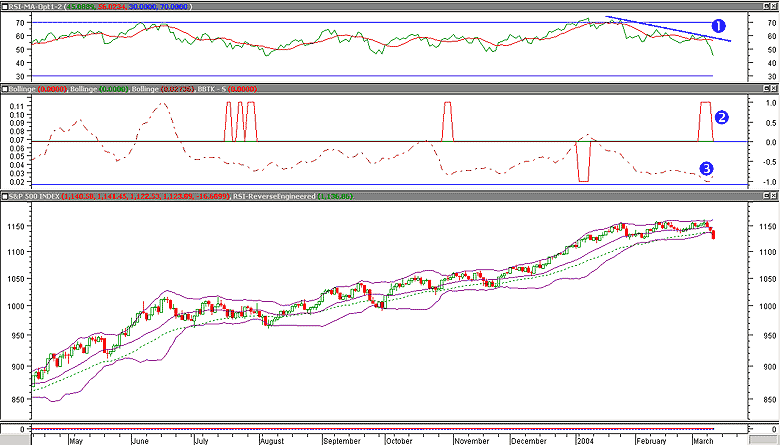 Figure 1 – Daily chart of the S&P500 showing Bollinger Bands on the price chart, relative strength index (1) showing negative divergence, Bollinger Band Squeeze indicator firing (2) and six-month or longer minimum Bollinger Band width reading (3). The negative divergence says that when the breakout comes, it has the greatest chance being a downside break. Bollinger Band Squeeze signal provided by Bollinger Band Tool Kit for MetaStock.
Graphic provided by: MetaStock.
In watching the S&P500 e-minis as the market breakdown was occurring on March 10, I got to thinking that it was a perfect test for The Squeeze. I checked the daily S&P500 and sure enough there it was! If only I had noticed it the night before!

March 10th marked a crucial point in the markets. The Nasdaq broke key support at 1994 and subsequently free-fell 30 points. The S&P 500 bounced off the 50% retracement back to March 2000 highs and in the process, experienced a range of 18 points. This had followed a number of days when the range averaged around 5, which is frustrating for most traders.


Those who used The Squeeze play scan as part of their daily regimen had warning that this was about to change in the very near future and no doubt went home that day with very big smiles on their faces.


SUGGESTED READING:

Blackman, Matt [2004] The LookSmart Squeeze http://technical.traders.com/tradersonline/display.asp?art=1470, Jan 13

Bollinger, John [2002] Bollinger on Bollinger Bands, McGraw-Hill

More Information on the Bollinger Band Tool Kit Plug-In
http://www.equis.com/Products/Catalog/Product.aspx?pcid=25&pid=1136



---
Matt Blackman
Matt Blackman is a full-time technical and financial writer and trader. He produces corporate and financial newsletters, and assists clients in getting published in the mainstream media. He is the host of TradeSystemGuru.com. Matt has earned the Chartered Market Technician (CMT) designation. Find out what stocks and futures Matt is watching on Twitter at www.twitter.com/RatioTrade
Company:
TradeSystemGuru.com
Address:
Box 2589
Garibaldi Highlands, BC Canada
Phone # for sales:
604-898-9069
Fax:
604-898-9069
Website:
www.tradesystemguru.com
E-mail address:
indextradermb@gmail.com

Traders' Resource Links

TradeSystemGuru.com has not added any product or service information to TRADERS' RESOURCE.
---
Click here for more information about our publications!
Comments
Date:
 03/12/04
Rank:
 5
Comment:
Date:
 03/15/04
Rank:
 5
Comment:
Date:
 03/18/04
Rank:
 5
Comment:
PRINT THIS ARTICLE