With gold having fallen from above $430 to below $400 (basis continuous futures), gold bugs are bowed but not broken. A quick survey of a major "gold bug" oriented website, 321gold.com, shows gold bugs to still be very much "on message": "$450 -- An Achievable Target" affirms one article, "The Great Inflation Train Wreck" warns another.

While there are a few cautionary tales (one article's headline asks of the gold market: "Cyclical, Secular, or Just Bull?"), it is hard to escape the sense that gold bugs have finally received their day in the sun and aren't about to let some two-bit $30 drop in the price of gold over the past few months scare them out of their deserved bull market. I can almost hear an old-time gold bug chiding, "Sonny, I was investing in gold back when you were in shortpants! This little correction ain't nothing!"



And they would probably be right. Nevertheless, the largely sideways movement in gold futures -- combined with the stall in crude oil's bull market and signs of at least a temporary bottom in the U.S. dollar index -- suggest that the yellow metal is certainly correcting, and that this correction could make even bigger "bargains" out of gold than many think.

I do not believe the gold correction is complete. But I have begun to suspect that it is taking the 3-3-5 form of an Elliott wave "flat." A flat, as I note above, is a largely sideways consolidation pattern that is composed of three parts: two three-wave movements going countertrend and then trend, and a final five-wave movement that can be sharply countertrend.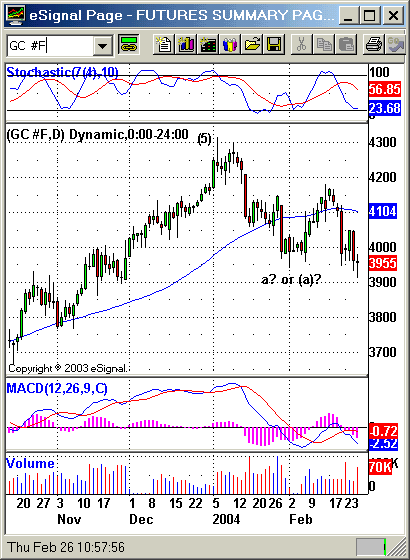 Should gold futures find support near the 390-395 level, then a rally back above 420 would be the next objective for the bulls.
Graphic provided by: eSignal.
In the case of gold, it appears as if the first wave of a possible 3-3-5 flat was completed by the beginning of February. This was the initial wave that took gold down from its above $430 level to below $400 (again, basis continuous futures). If gold is indeed in a flat, then February should represent so far the movement of prices through the "pro-trend" "b" wave. Again, both the "a" and "b" waves are tripartite -- thus it would be most likely that prices are currently moving into the third and final segment of the "b" wave. Here, this would mean prices finding support in the 390-395 range and moving back up to at least the February highs near 420 (though a test of the January highs would be more appropriate for the flat pattern).


While I don't want to get ahead of myself, it is worth mentioning that if a true "b" wave ensues, then we should anticipate a true renewal of faith on the part of gold bulls and, perhaps, a little overconfidence as the gold market begins to move back upward. This is worth mentioning because if gold is in a flat, then the end of the "b" wave will herald the beginning of wave "c." Wave "c"s in most respects are significant events and wave "c"s in flats are no exception. In a flat, wave "c" tends to go beyond the ending point of wave "a" and is usually equivalent in size to wave "a." Thus, if gold completes a wave "b" advance and moves into a wave "c" decline, it is likely that such a decline would take out the wave "a" lows near 395.


To provide some reference points, consider the following. In a flat, wave "b" generally retraces approximately 61.8% of wave "a." Additionally, wave "c" in a flat tends to be the same size as wave "a." This would suggest that, from the present lows, wave "b" should rally some 23 points to 417. If this objective is reached, then a wave "c" might be expected to take gold back down 37 points (the length of wave "a") to near 380 before the correction -- and the 3-3-5 flat -- is done.