PRINT THIS ARTICLE
DOW THEORY
---
Confirmations And The January Highs
02/12/04 11:47:28 AM
---
by David Penn
---
With the Transports' move down unconfirmed by the Industrials, will a rising Transports Average confirm the Industrials' rally above the January highs?
Security:
$INDU, $TRAN
Position:
N/A
A week ago or so I suggested that it would take quite a dramatic collapse for the Dow Industrials to confirm the late January declines in the Dow Transports. To recap, the Dow Transports peaked just above 3090 on January 22nd and then proceeded to correct swiftly and sharply. Four days after the peak, the Transports had taken out the January lows. Two days later, the December lows were smashed. Three days later, the November lows were taken out.


The Dow Industrials, on the other hand, would have none of it. While the Transports were collapsing, the Industrials were consolidating. And when the Transports finally bottomed and began moving back up, the Industrials seemed to be waiting patiently for them. With the Transports back up over their November and December lows (but, as of this writing, still below both the December highs and the 50-day exponential moving average (EMA), the Industrials have resumed their bull market, as well, taking out the January highs on February 11th.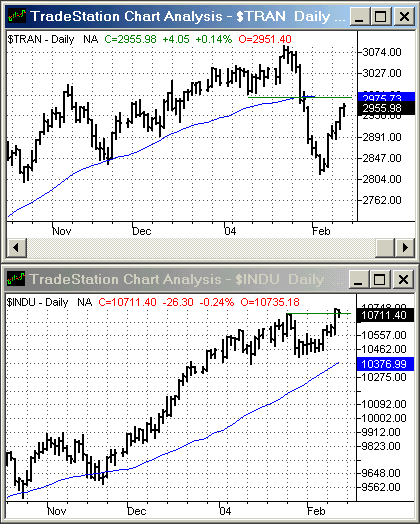 While the Industrials struggle to take out the January highs, the Transports fight to rise above the January lows.
Graphic provided by: TradeStation.
With stocks appearing to have avoided the collapse that befell the Transports, the next test will be whether or not the Transports confirm the new highs set by the Industrials. Specifically, in the same way we watched to see if the Industrials would confirm the Transports move below the January, December and finally November lows, we should now watch to see whether or not the Transports confirm the Industrials closing above the January highs. Again, even if the Transports do not confirm the new highs of the Industrials, it only means that the two Averages are out of sync and not confirming one another, thus the prevailing trend must be considered still intact. In this case, that prevailing trend is upward.


What is the likelihood that the Transports will take out their own January highs? As of this writing, the Transports are moving swiftly toward a test of resistance at the 50-day EMA. This moving average provided consistent support for the Transports' bull market since April, and it is a truism that strong support often becomes strong resistance once penetrated. Even north of the 50-day EMA is a consolidation range in the Transports that extends from mid-December to mid-January. This range could also present a challenge to any attempt to move into the 3090 area that would signify a new high in the Dow Transports.


---
David Penn
Technical Writer for Technical Analysis of STOCKS & COMMODITIES magazine, Working-Money.com, and Traders.com Advantage.
---
Click here for more information about our publications!
PRINT THIS ARTICLE