PRINT THIS ARTICLE
BOLLINGER BANDS
---
RJR Tobacco Holders - Is That Smoke?
01/27/04 08:09:39 AM
---
by Matt Blackman
---
They say where there is smoke, there is fire and this one could be getting out of hand.
Security:
RJR
Position:
N/A
RJR Tobacco Holders (RJR) has seen a pretty good run but there are signs that the good times may be near an end. It came up today in a scan of stocks with six month low volatilities.


In his book, Bollinger on Bollinger Bands, John describes a situation that has proven to be quite useful over the years and one of his signature plays. Called the Squeeze, it occurs when a stock is at a six-month (or longer) volatility low as demonstrated by the minimum distance between the top and bottom Bollinger Bands. This normally spells a breakout, the direction of which must be determined by other indicators. Two he suggests in the book are Larry Williams' accumulation distribution index and the intraday intensity, both of which employ volume in the formula. If either or both are showing negative divergence along with the relative strength index, a short is indicated.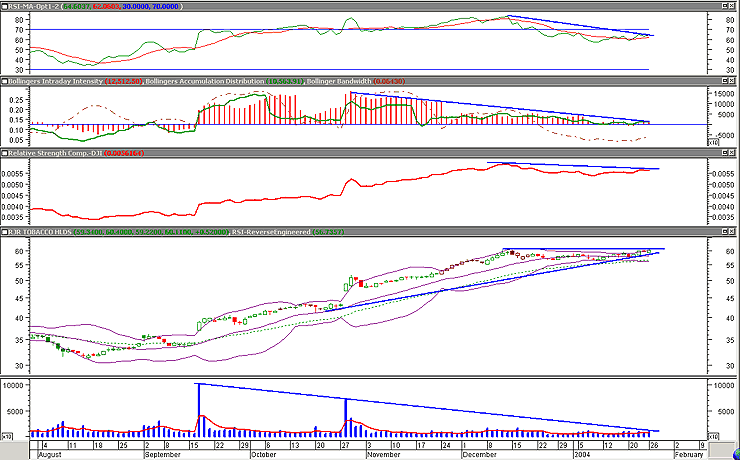 Figure 1 – RJR daily showing negative divergence between the RSI (top window), intraday intensity, accumulation distribution index (second window), relative strength with the Dow Jones Industrial Average (third window) and price. Note the declining volume in the lower window. Bollinger Bands appear to be at a 19-month minimum distance implying a breakout is imminent.
Graphic provided by: MetaStock.
RJR is also underperforming the Dow Jones Industrial Average (DJI) as demonstrated by the single red line showing negative divergence in the relative strength chart of RJR versus the Dow (Figure 1).


A quick look at the fundamentals confirms the troubled chart pattern. Quarterly revenues are flat to down. This combined with an "impairment charge" of $3.39 billion in the third quarter '03 earnings statement that knocked earnings down from $0.83 per share in June '03 to a whopping loss of $41.31 per share in Sept '03. Shorts smell blood as evidenced by the short interest, which has increased to 9.5% of the float. Insiders have also been unloading. Ten insiders sold a total of 128,622 shares in the last three months according to the Wall Street Journal.

The company received some more bad news this week. First it lost a Supreme Court bid to overturn a $195,000 lung cancer award but a more severe blow was delivered when the tobacco industry lost an attempt to have a Justice Department suit dismissed that is seeking $289 billion for allegedly deceiving the public about the dangers of smoking.

RJR stock has more than doubled since May '03 but there are more dark clouds on the horizon. Florida law permits product complaint suits to be filed and there are thousands of state cases pending against the company while it fights to have the law blocked. Add to this 1,061 cases from West Virginia and 2,800 second-hand smoke suits filed by flight attendants, payments as part of the company's share of a $200 billion settlement with 46 states in 1998 and more than $500 million spent between 2000 and 2002 in tobacco related awards, according to the Journal.

Last but not least, the SEC is seeking details about the company's litigation expenses but the company is citing attorney-client privilege and competitive concerns which may mean a lengthy battle with the agency and even higher legal bills. Great if you are a lawyer on the defence team. Not so great if you are a shareholder.


SUGGESTED READING:

Bollinger, John [2003] Bollinger on Bollinger Bands, McGraw-Hill


---
Matt Blackman
Matt Blackman is a full-time technical and financial writer and trader. He produces corporate and financial newsletters, and assists clients in getting published in the mainstream media. He is the host of TradeSystemGuru.com. Matt has earned the Chartered Market Technician (CMT) designation. Find out what stocks and futures Matt is watching on Twitter at www.twitter.com/RatioTrade
Company:
TradeSystemGuru.com
Address:
Box 2589
Garibaldi Highlands, BC Canada
Phone # for sales:
604-898-9069
Fax:
604-898-9069
Website:
www.tradesystemguru.com
E-mail address:
indextradermb@gmail.com

Traders' Resource Links

TradeSystemGuru.com has not added any product or service information to TRADERS' RESOURCE.
---
Click here for more information about our publications!
Comments
PRINT THIS ARTICLE