PRINT THIS ARTICLE
RETRACEMENT
---
The Euro Pullback
01/23/04 08:02:55 AM
---
by David Penn
---
The dollar strenghening, gold slipping ... euro bulls have seen this act before.
Security:
ECH4
Position:
N/A
News of the dollar's strength of late has been greatly exaggerated. Admittedly, this strength comes in the context of tremendous weakness. But the rally in dollar futures (basis March) in the middle of January did catch more than a few observers by surprise. Since its January low on the 12th, dollar futures spent the week rallying from 85.10 to 88.17, a solid three-cent gain from Monday to Friday. This compares quite favorably with the dollar's most recent rally, back in late October, when the greenback (again, basis March) climbed from 91.70 to 94.70 over nine days.


But already there are signs that this latest bounce in the dollar will yield to the prevailing trend and resume its descent. Nowhere is this more apparent than in the price chart of March euro futures. In the price chart of the March euro, there are a number of signs of a classic pullback in a bull market, a pullback that should lead to higher prices for the euro -- and lower prices for the dollar.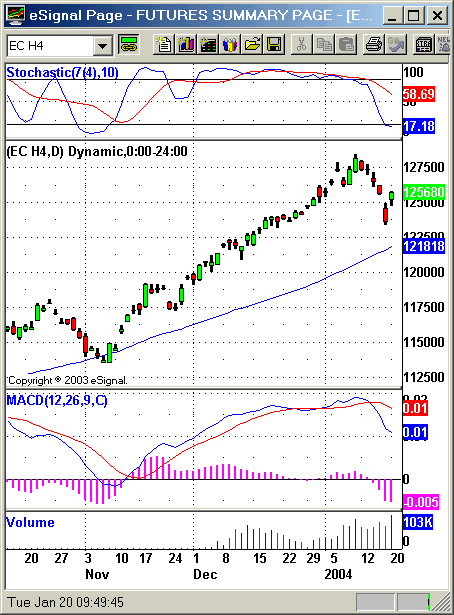 After a perfect pullback in early November, an only slightly less pristine pullbaack begins to develop late in January.
Graphic provided by: eSignal.
The March euro currently features two factors that make a successful pullback probable. The first is that the euro is especially oversold right now -- and the fast line in the stochastic has begun to "hook up." This is one of the swing trading signals that traders using Linda Bradford Raschke's "ANTI" set-up stay on the lookout for -- and with good reason. The "hooking up" of the stochastic suggests that downward momentum has ended and, if prices begin to move upward, there might be a strong shift in momentum back upward in line with the prevailing trend -- which remains upward (consider the slope of the 50-day exponential moving average).


The other feature that makes the March euro look primed to move higher is the MACD histogram. While the histogram has yet to "tick up" with a lower low bar, there are signs that downward momentum here too has waned -- particularly the fact that the last two histogram bars are at approximately the same level. Should tomorrow's (January 21st) prices cause a shorter histogram bar to develop, then the MACD histogram would join the stochastic in signaling a move higher in the euro.


I've chosen to focus on the euro, among other currencies that had been appreciating against the dollar for some time and, of late, have been correcting against it, because the euro was the most oversold of the major currencies. Similar pullback opportunities exist with the Australian and Canadian dollars, the British pound, and the Swiss franc.


---
David Penn
Technical Writer for Technical Analysis of STOCKS & COMMODITIES magazine, Working-Money.com, and Traders.com Advantage.
---
Click here for more information about our publications!
PRINT THIS ARTICLE