With gold stocks ramping and the government long bond sinking (along with the U.S. dollar), one place toward which investors and traders are turning their attention is the basic materials sector. Basic materials stocks tend to benefit from the commodity inflation a weak dollar engenders, while at the same time tending to be more resilient in the face of a potential rising interest rate trend. According to Sam Stovall, author of Standard & Poor's Guide to Sector Investing, the sectors that tend to outperform late in an economic expansion are basic materials and energy. In fact, Stovall shows that between 1969 and 1994, not only have these sectors performed well late in the expansion phase of the economic cycle, but also they have outperformed most other sectors when the expansion phase of the cycle gave way to the contraction phase.


As I mentioned in a recent Traders.com Advantage article, "Treasury Yields and MACD Histogram Peaks," (January 5, 2004), I have been increasingly interested in the MACD Histogram. While that article discusses specifically the phenomenon of extreme peaks and troughs in the MACD Histogram, there is a more common, everyday application of the histogram that may be particularly helpful in determining when pullbacks in rising trends. Listening to a videotape by Pristine.com founder, Oliver Velez over the weekend, I heard him state frankly the task of the trader or investor in a bull market: "Buy every single dip. Not a few of them. Not some of them. All of them. The only question is when." I believe Velez is quite right and that the MACD histogram can be a tool in determining when is "when."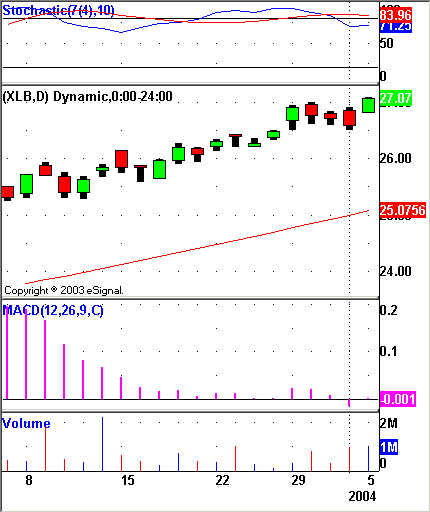 Barely visible above the zero line, the daily MACD histogram ticks up on January 5th after four days of declining histogram values and three successively lower closes in the price of the Basic Materials ETF, XLB.
Graphic provided by: eSignal.
As prices in a bull market are declining from a short-term or intermediate peak, look for a declining series of MACD histogram bars. If the trend is to reassert itself (in this case, to move back upward) then there should be a point at which the MACD histogram bars stop declining. Note that the histogram low may be an "extreme" low that reaches deep into negative territory, or a somewhat milder low that touches or nears the zero line. Once that histogram low is in place, (however low it reaches) it is the subsequent bar that is of paramount interest (I've taken to referring to that subsequent bar as the "point" -- borrowed liberally from the world of craps -- for lack of a better term...). If prices rally above the high of the "point" day afterwards, then there is a good chance that prices will continue to keep moving higher.


This method of using the MACD histogram is significantly akin to the one I first ran into in Dr. Alexander Elder's Trading for a Living. Dr. Elder's approach is a bit more sophisticated than the one presented here, with Elder's preference for the weekly MACD histogram (as opposed to the daily) and his use of trailing buy (or sell, if going short) stops to enter the market. But for the most part, the two methods are substantially alike. I urge anyone who is interested in the MACD histogram to obtain a copy of Elder's Trading for a Living. Elder's more recent book, Come Into My Trading Room also discusses the MACD histogram in some depth. But I've found Elder's commentary on this indicator to be more in-depth in his earlier book.


So consider this way of looking for pullbacks in advancing trends when looking at the basic materials stocks. This group, as represented by exchange-traded funds like XLB and IYM, has recently experienced a three-day pullback, a pullback which has resulted in a series of deeper and deeper MACD histogram bars.