PRINT THIS ARTICLE
HEAD & SHOULDERS
---
Gold's End-of-Year Glitter
12/30/03 07:58:23 AM
---
by David Penn
---
As the head and shoulders top in $HUI disappears, higher prices for gold stocks emerge.
Security:
$HUI
Position:
N/A
I hadn't noticed the head and shoulders top in the AMEX Gold Bugs Index ($HUI) until a colleague who has been studying gold stocks for years pointed it out to me as the reason for his newfound (yet, mind you, short-term) caution with regard to gold stocks going forward. As the chart shows, the price action in $HUI from mid- to late November through to mid-December did in fact develop a head and shoulders top-like formation. This formation consists of a smallish left shoulder in mid-November, a head that developed from mid-November to early December, and a smallish right shoulder that developed around the middle of December.


If this head and shoulders top had succeeded in precipitating a correction in the advance in $HUI, then the size of the pattern suggested a downside of approximately 38 points, or a drop to around 182.58 on the $HUI. This would have meant a "taking out" of the $HUI's October low of 186.48.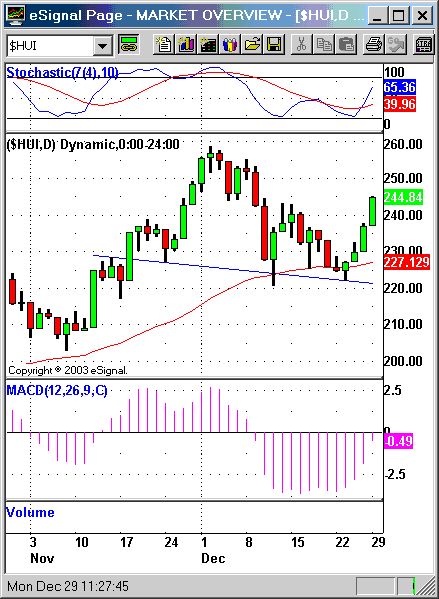 How bullish is a failed head and shoulders top? So far, the answer is: quite bullish, at least for unhedged gold stocks.
Graphic provided by: eSignal.
There were at least two factors, however, arguing against a significant breakdown in $HUI in December. The first, and most obvious, factor was the likely support provided by the 50-day exponential moving average (EMA). This moving average provided support during the first decline into December and appears to have provided crucial support during the $HUI's decline later in the month. The long lower shadows on a number of candlesticks as prices neared the 50-day EMA also underscores the support the moving average could provide.


The other factors involve the indicators: both the stochastic and the MACD histogram. The fact that the stochastic not only confirmed the higher low the $HUI established in late December, but also that the oscillator remained in relatively oversold territory should further be considered a bullish indication for $HUI. The indicator action in the MACD histogram is cause for further bullishness. Since the first decline into December, the MACD histogram moved beneath its "zero line" and by mid-month was already marking some significantly lower levels. In fact, the MACD histogram had not been lower in the $HUI in over a year! This, combined with the support of the 50-day EMA, suggested that gold stocks, rather than being ripe for a correction, might instead by ready to rush higher, perhaps testing and "taking out" the early December high at 258.60 (which is also the high of the bull market the $HUI has enjoyed since the fall of 2000.)


---
David Penn
Technical Writer for Technical Analysis of STOCKS & COMMODITIES magazine, Working-Money.com, and Traders.com Advantage.
---
Click here for more information about our publications!
PRINT THIS ARTICLE