It has happened to all of us, and that pang of jealousy gnaws at your gut. You have made a respectable 22% profit, and diversified your portfolio as you were taught to do, but - there was no big winner. Where have you gone wrong?

In actual fact you haven't. The only mistake you made was in not asking the boaster:

1. How many losses he had made in other highly speculative gambles before he hit this one winner?

2. How much he originally invested, and what was his percentage profit?

3. How did he find this wonderful stock that gave him this incredible profit?

"C" is the crux -- the most important question that should have been asked -- What strategy did you use to identify this stock?



You will find his answer quite surprising. He will tell you that he used -- and he will mention some program that you know, or have never heard of -- that identified this stock, or he will tell you that a promoter phoned him, telling him about an incredible find somewhere in some obscure part of the world that no one has ever mined. Their drill holes are usually filled with hope and seldom does that hope pay off, but when it does. . .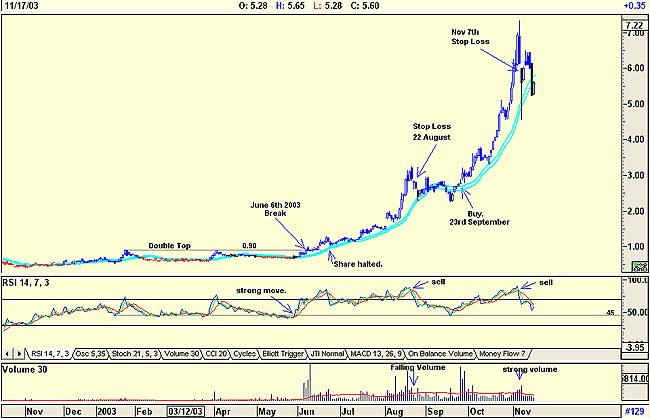 Northern Dynasty Minerals
Graphic provided by: AdvancedGET.
One such share is Northern Dynasty Minerals that trades on the Toronto Stock exchange. The company is venture capital, and is engaged in mineral exploration and development. A look at a chart shows that the share price traded around $0.35 almost forever, then in September 2001, it suddenly started moving up, trading as high as $1.48 before falling back to $0.45. Was this because of a move in gold price? Probably yes. Gold started moving up strongly from November 2001, and the company may simply have been following gold upward as speculators and promoters stepped in.


Then in June 2003, trading in the share was halted at the request of the company, pending an announcement. From that date, the share price started escalating.

Looking at the logarithmic chart, would you have purchased the share? As a chartist, had you been aware of it? The answer is yes for the following reasons.

1. On June 6, 2003, the share price broke above a trendline drawn from a double top. A few days earlier it had broken through the upper JM band line, which may have alerted you. A JM band is a 15-period simple moving average offset by 2%. A buy signal is given when the upper band is broken, and a sell signal when the lower band is broken.

2. The RSI indicator appears to be establishing the 45 level as its buy zone and has shown a strong move upwards from this level.

3. Volume on a rising market increased very strongly, a sign of strength.

You may have bought them after looking through the Internet for any news items. The thought of a significant gold or copper find was intriguing, especially as gold started rising on the back of a falling US$. You find the following headline posted on July 15th:

Northern Dynasty Shareholders Approve $5 Million Financing for Pebble Gold-Copper Project

You would then have decided to stay with your "find" until there was a reason to sell, either through a stop-loss, or a break below the lower JM band. You would have received a stop-loss sell on August 22nd on falling volume, which would have disturbed you, because a sell on falling volume is a sign of strength. Being disciplined, you would have sold, justified by a sell signal given by the RSI indicator.



Normally, that would be the end of that, and you would be very happy with the profit you made, but the sell on falling volume worries you, and the gold price appears to be strengthening, so you put the share on your watch list. On September 23, on very strong volume, you receive a buy signal as the price breaks above the upper JM band line. You buy, and are very pleased with your decision as the share price rises logarithmically.

On November 7th you are out on a stop-loss, confirmed by a RSI sell signal. You regret your decision, as the share price immediately rises but you notice that the rise is on falling volume, a sign of weakness.

At the next cocktail party, you boast about your incredible astuteness, enjoying the look of jealousy on every ones face.

One word of advice. For every tip there is a tap, especially when that tip comes from a promoter, but it does pay to look at every one of them. Sometimes the tip is golden.