After a pair of articles pointing toward possible conclusions to the bear market in cocoa futures ("Cocoa's Double Bottom," Traders.com Advantage, August 22, 2003 and "December Cocoa's Comeback," Traders.com Advantage, October 14, 2003), I recently noted similarities in the sideways movement in both cocoa futures and coffee futures ("Sinking Sideways," Traders.com Advantage, November 4, 2003). In that last piece, I wondered whether or not the sideways movement in both futures in general and the inability of cocoa futures to remain above their September lows meant that lower prices were in store for both.


As I mentioned in that latter piece, "what distinguishes cocoa from coffee is that coffee appears to have broken out from its months-long consolidation to the downside, whereas cocoa appears to be attempting to rally here in late October." This observation has remained relevant as coffee has indeed continued to slip while cocoa, on quite the other hand, has rallied strongly from its October lows.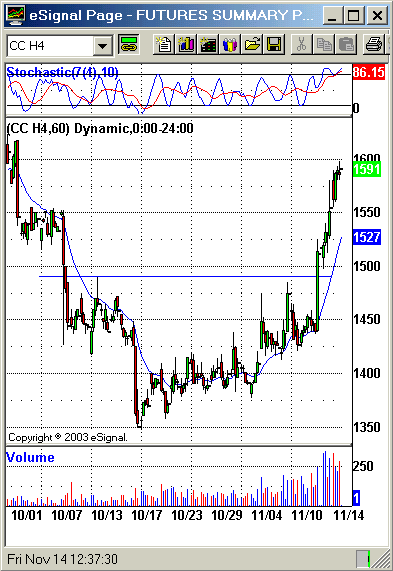 This breakout from a rounded bottom-like formation could mark the end of the bear market in cocoa futures.
Graphic provided by: eSignal.
What did I suggest would be key to any reversal to the upside in cocoa futures? "This rally faces a real test when prices advance to the level of the 20-day exponential moving average, some thirty-odd points higher." The day after "Sinking Sideways" was posted -- with December cocoa at about 1440 -- cocoa futures moved up, breaking through its 20-day exponential moving average and, after a few days of consolidation that turned the 20-day average into a line of support, eventually climbed as high as 1590 ten days later.


The key to this breakout was observable in the hourly charts. Turning toward the hourly March contract for cocoa futures, there is a rounding bottom pattern that developed between October 8th and November 11th. In the December contract, this pattern seems closer to a flatish head and shoulders bottom, but in either event, the price action appears to be tracing out a bottom.


This bottoming action was confirmed when prices move up sharply on November 12th, breaking past resistance at 1490 (basis March). Thomas Bulkowski, in his must-own textbook Encyclopedia of Chart Patterns, observes that rounded bottoms often feature "lips" or "handles" -- as is the case with cup with handle formations. However, in the case of March cocoa, there was no such pullback once prices broke free from resistance. Bulkowski also notes that volume also tends to be "rounded" -- higher at the beginning of the formation, lower in the middle and higher again at the end of the formation. While the volume at the beginning of the formation in the March contract is unremarkable, the higher volume attending what appears to be a mid-November breakout seems consistent with "breakout" volume.

Where should traders expect March cocoa to end up? Given a formation low of 1350 and a formation high at 1490, an upside of 1630 in an initial move should be expected.