PRINT THIS ARTICLE
CHART ANALYSIS
---
The Bank Index Fails To Confirm Dow
09/16/03 10:40:27 AM
---
by Gary Grosschadl
---
The Philadelphia Bank Index is a broad financial index that usually mirrors the Dow.
Security:
$BKX
Position:
N/A
In the past year this has been the case but now we see a large divergence between the two. Something has to give. Either the bank index will play catch up with the more bullish Dow or the Dow is ahead of itself and will come back down.


For visual clarity I've set up the daily charts below to show a shorter period of seven months rather than the entire year. Up to the vertical green line, both charts track very similarly but to the right of that reference line, there is an obvious divergence. The bank index went on to make a new high while the Dow meandered sideways. Within days the bank index reversed and headed back down to its 20-day EMA support. About two weeks later both came down to test their respective horizontal support lines.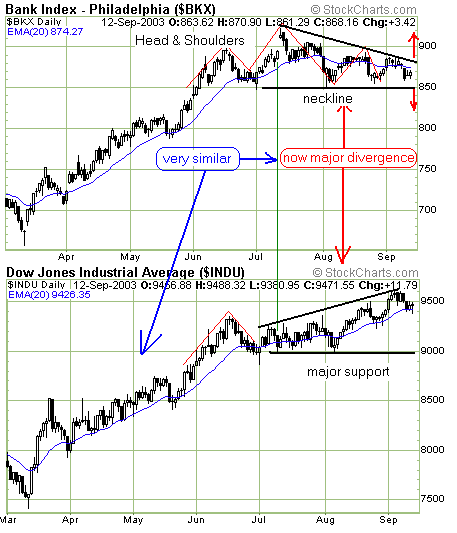 Daily chart comparing the Bank Index to the Dow.
Graphic provided by: Stockcharts.com.
Next came a larger divergence. The Dow went on to make two successive higher highs while the bank index did the reverse, making two lower highs. The bank index is forming a bearish descending tringle and may, at the same time, be forming a head and shoulders pattern. The two formations share the same lower trendline, which for the descending triangle is the support line and for the head and shoulders the neckline. This is a major divergence (in this shorter time frame), with the Dow making higher highs and higher lows while the bank index is showing two potential bearish patterns.


So the big question is, which one is out of whack? I suggest since the bank index is showing a "tighter" pattern via converging trendlines, this chart is the one to watch for the next big move either way. If the bank index is to confirm the Dow's bullish intent it should soon break to the upside of its triangle thereby negating its potentially bearish pattern. This would be a strong signal for financial stocks and help add bullish conviction to the Dow. On the other hand, should the bank index break major support at 850 and start to fulfill the head and shoulders downturn as well as the descending triangle, then the Dow would very certainly come down hard and fast.


So in summary, the market could go either way but a bigger move seems to be in the making. Follow the money... Follow the banks is the message implied here and you may have the answer in the coming week. Should the banks head south, Dow 9000 could easily be tested. On the other hand, a bold push up now for the bank index may fuel a Dow push towards 10,000.


---
Gary Grosschadl
Independent Canadian equities trader and technical analyst based in Peterborough
Ontario, Canada.
---
Click here for more information about our publications!
Comments
Date:
 09/27/03
Rank:
 4
Comment:
Date:
 10/02/03
Rank:
 5
Comment:
PRINT THIS ARTICLE