PRINT THIS ARTICLE
ELLIOTT WAVE
---
Swing Low Swiss Franc
09/11/03 08:51:48 AM
---
by David Penn
---
A bounce in the September Swiss franc may set up further declines.
Security:
SFU3
Position:
N/A
Gary Grosschadl, in his recent Traders.com Advantage piece posted on September 2nd ("U.S. Dollar and Euro Fighting Same Battle"), made a compelling case for the short-term direction of both the U.S. dollar and the euro. In short, Grosschadl noted that tests of support and resistance, respectively, were due for the greenback and the euro -- both of which made significant moves during the month of August. With currency and forex traders anxiously awaiting either a clear sign of a dollar breakout or a euro breakdown, Grosschadl's article accurately anticipated near-term, countertrend moves in both.


Do these countertrend movements represent an end of trends that have been developing since late May? While this article takes a look at the Swiss franc rather than the U.S. dollar or euro, the fact that the euro and the Swiss franc often trade similarly suggests that any clue to the Swiss franc's movement will likely provide a hint as to the direction of the euro -- once its countertrend "bounce" to the upside is complete.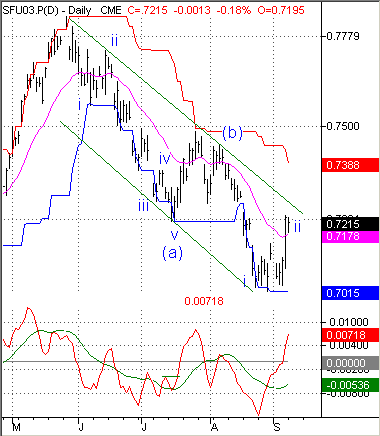 Resistance for the September Swiss franc looms at the top of this trend channel.
Graphic provided by: TradeStation.
Since its peak in late May, the Swiss franc (basis September futures) has been moving in a fairly well-defined trend channel to the downside. Countertrend rally attempts to break free from this channel have been met repeatedly with resistance in mid-June, late July, and early August. The current, early September bounce in the September Swiss franc, is quite possibly another in this series of countertrend reactions. As shown by Linda Bradford Raschke's 3/10 oscillator, the lows of late August and early September do not appear to represent a bottom inasmuch as there is no positive divergence between price action and the indicator -- a tell-tale sign of a real bottom from which a rally of any significance would emerge.


I've also plotted out a potential Elliott wave count for the current decline in the September Swiss franc. This count is predicated on the peak that was made in late May, and the subsequent decline appears to be taking the form of a 5-3-5 zigzag. The zigzag is one of the main corrective patterns in Elliott wave analysis, and consists of an initial downward (a) wave composed of five smaller waves, a countertrend (b) wave composed of three smaller waves, and a final downward (c) wave composed of five smaller waves. If this assessment of a zigzag in the September Swiss franc proves accurate, then it appears that the bounce in early September will have represented a wave ii countertrend advance from which should follow a wave iii resumption of the downtrend as the (c) wave moves toward completion.


Can any downside target be deduced from this information? A 38% retracement of the September Swiss francs bull market (1,728 points from, roughly, April 2002 until June 2003) lies at 7183, and corresponds closely with the low of wave (a). A 50% retracement of this advance lies at 6976 and is not too far off from the wave i low of wave (c). A 62% retracement would take the September Swiss franc down to 6769, lows not seen since the Swiss franc was meandering in a consolidation range during the fall of 2002.

Even lower prices for the September Swiss franc are possible. One Fibonacci projection based on the work of Robert Fischer (Fibonacci Applications and Strategies for Traders) calls for the multiplying of the length wave i of wave (c) times 1.618, and subtracting that product from the value at the end of wave i. This projection provides for an ultimate wave v/wave (c) low of about 0.6255.



---
David Penn
Technical Writer for Technical Analysis of STOCKS & COMMODITIES magazine, Working-Money.com, and Traders.com Advantage.
---
Click here for more information about our publications!
Comments
Date:
 09/12/03
Rank:
 4
Comment:
PRINT THIS ARTICLE