PRINT THIS ARTICLE
DOW THEORY
---
Industrials Fail to Confirm Transports
08/18/03 08:44:48 AM
---
by Arthur Hill
---
Dow Theory was last discussed in late May. At the time, the Dow Transports moved to new reaction highs, but the Dow Industrials had yet to confirm. Since then, the Dow broke above its January highs (blue arrow) and moved to a new reaction high at 9323. In Dow Theory terms, this new high in the Dow Industrials (green arrows) confirmed the Dow Transports and is bullish until proven otherwise.
Security:
INDU, TRAN
Position:
N/A
Since making the new reaction highs in June, a non-confirmation could be brewing. A non-confirmation occurs when one average moves to a new reaction high (or low), but the other average fails to forge a corresponding reaction high (or low). To remain strong, the Dow Industrials and Dow Transports should continue to confirm corresponding highs. The Dow Transports moved to a new reaction high at the end of July (red arrow), but the Dow has yet to exceed its June high. Although not a sell signal, this non-confirmation shows that the Dow Industrials are not as strong as the Dow Transports and serves as a warning.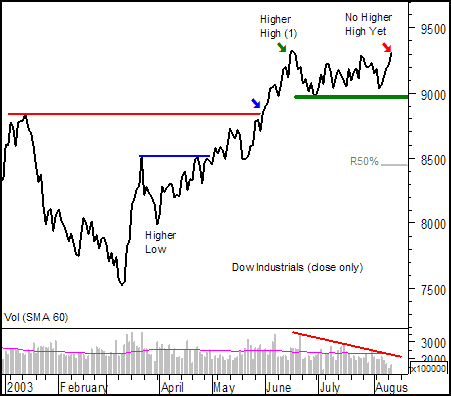 Figure 1: Dow Industrials.
Graphic provided by: MetaStock.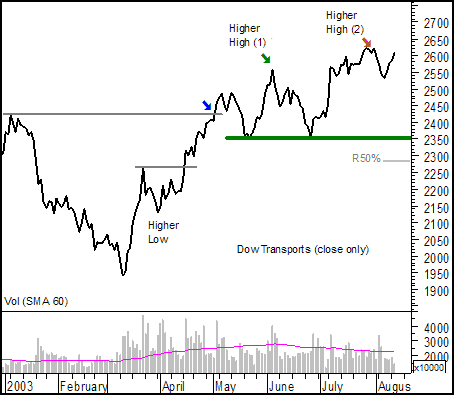 Figure 2: Dow Transports.

For a Dow Theory sell signal, this non-confirmation would have to be followed by new reaction lows in both averages. Using the June lows, the Dow Industrials would have to close below 8985 and the Dow Transports below 2356 (green support lines). Support breaks would argue for at least a correction of the prior advance and Charles Dow liked to use 50%. For the Dow Transports, a 50% retracement of the prior advance would correct back to around 2285. For the Dow Industrials, a 50% retracement would correct back to around 8450.


---
Arthur Hill
Arthur Hill is currently editor of TDTrader.com, a website specializing in trading strategies, sector/industry specific breadth stats and overall technical analysis. He passed the Society of Technical Analysts (STA London) diploma exam with distinction is a Certified Financial Technician (CFTe). Prior to TD Trader, he was the Chief Technical Analyst for Stockcharts.com and the main contributor to the ChartSchool.
Title:
Editor
Company:
TDTrader.com
Address:
Willem Geetsstraat 17
Mechelen, B2800
Phone # for sales:
3215345465
Website:
www.tdtrader.com
E-mail address:
arthurh@tdtrader.com

Traders' Resource Links

TDTrader.com has not added any product or service information to TRADERS' RESOURCE.
---
Click here for more information about our publications!
Comments
Date:
 08/20/03
Rank:
 4
Comment:
Date:
 08/20/03
Rank:
 4
Comment:
PRINT THIS ARTICLE