PRINT THIS ARTICLE
REVERSAL
---
The Reversal That Didn't Reverse
07/24/03 10:02:53 AM
---
by David Penn
---
What the MACD appears to giveth, it also can taketh away.
Security:
OJN3, OJU3
Position:
N/A
Back in June, it appeared as if orange juice futures (particularly the July contract) had put in a bottom after 10-months of largely relentless bear market. As I wrote in "A Reversal in Juice?" (Traders.com Advantage, June 10, 2003), a positive divergence in the MACD compared to two price trough with approximately equally deep lows pointed to a rally of some significance-- even if the rally did not mean that end of the overall bear market.


Prices did move upward for the balance of June, climbing from 82 cents at the beginning of the month to 88 cents near month's end. But as July approached, July orange juice futures buckled and then reversed at resistance near 88 cents and began moving swiftly downward. In five days, July juice had given up half of what it had gained in the June rally. Two days after that, July juice was setting new contract lows.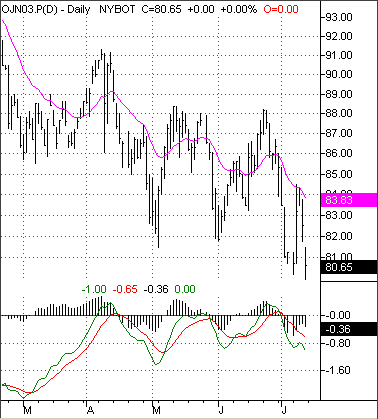 Figure 1: Rising MACD troughs from early May to early June suggested that orange juice may be headed higher. But "higher" was not in the cards as prices failed to break out above the inter-trough highs just north of 88 cents.
Graphic provided by: TradeStation.
What is especially unfortunate, from the point of view of following the MACD's divergences, is that the MACD peak in late June is actually higher than the peak in mid-May. This would have also been correctly interpreted as a bullish development for July orange juice. However, as prices dropped back beneath the 20-day EMA toward the end of the month, it would have been difficult to sustain the bullish case. Under 85 cents, price support is particularly scarce, with some minimal support at 83.25, before revisiting contract lows at 82 cents-- which is exactly what the declining juice contract did in early July.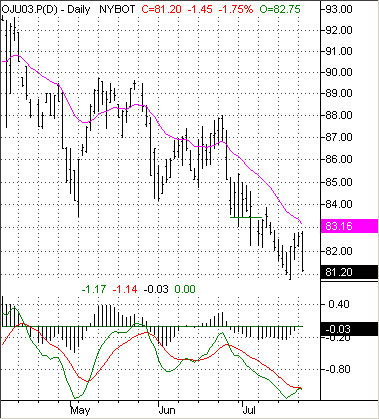 Figure 2: Breaking down again at 83.50 (see green line), September orange juice appears to be en route to new contract lows.

Is there any likelihood for a reversal from the current lows? Price action alone is not encouraging. Basis September, orange juice futures were headed toward a new contract low near 81 cents in late July, after prices appeared ready to test the downwardly moving 20-day EMA. This suggests that, for the time being, the orange juice market is firmly in the paws of the bears and that bulls, once bitten but twice shy, may not be in any great hurry to try and force a reversal of this particular bear market.


---
David Penn
Technical Writer for Technical Analysis of STOCKS & COMMODITIES magazine, Working-Money.com, and Traders.com Advantage.
---
Click here for more information about our publications!
Comments
Date:
 07/29/03
Rank:
 2
Comment:
Date:
 08/05/03
Rank:
 3
Comment:
PRINT THIS ARTICLE