PRINT THIS ARTICLE
CHART ANALYSIS
---
Swing Time for Currencies and Gold?
07/02/03 12:13:18 PM
---
by Gary Grosschadl
---
Gold often swings with the US dollar and the Euro, and it looks like this dance may continue.
Security:
$XEU, $USD, $XAU, $GOLD
Position:
N/A
As the charts show, the Euro and gold often make close dance partners while the US Dollar likes to do its own thing. It's not a new phenomena that when the USD is strong gold is often weak and vice versa. The Euro, like gold, usually runs counter to the USD and therefore often runs in tandem with gold.


It often is revealing to compare the Euro to the USD as it is possible to see strong signals occuring in opposite directions, suggesting a turn in the making. Here a possible doji type reversal (bullish morning star pattern) has formed with confirmation the next day or two for the Euro. At the same time the USD shows a possible stall candle. A stall candle is characterized by having a small body, hugging the top side of the previous day's large bullish candle. This hints at the bulls losing steam with a reluctance to move higher. Again next day confirmation is required.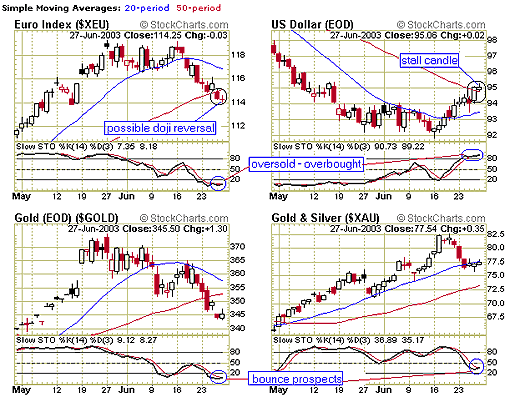 Daily charts.
Graphic provided by: Stockcharts.com.
The stochastics also shows the outlook for gold and the Euro oversold, both looking for a possible bounce with a coming move above 20. The opposite shows for the USD stochastic, which is in an overbought situation. The danger of a downturn occurs when the stochastic heads back down through the 80 level - something to watch for.


Watching the interplay can give valuable clues to what lies ahead, not only for these commodities but also the main equities indexes and the gold XAU index.


---
Gary Grosschadl
Independent Canadian equities trader and technical analyst based in Peterborough
Ontario, Canada.
---
Click here for more information about our publications!
PRINT THIS ARTICLE