PRINT THIS ARTICLE
REVERSAL
---
Is It "Now Time" For Natural Gas?
06/19/03 08:33:17 AM
---
by David Penn
---
A dead-cat bounce in a volume indicator suggests that natural gas may be headed lower.
Security:
NGN03
Position:
N/A
Is there a shortage in natural gas? Alan Greenspan certainly believes so. In recent testimony to the U.S. House of Representatives' Energy and Commerce committee, the Federal Reserve Board chairman observed that:


In recent months, in response to very tight supplies, prices of natural gas have increased sharply. Working gas in storage is currently at very low levels relative to its seasonal norm because of a colder than average winter and a seeming inability of increased gas well drilling to significantly augment net marketed production.

News reports are filled with stories about the shortage of natural gas: "Natural gas no longer cheap, plentiful power," reports the Seattle Times. "Natural gas supply lowest in 25 years," trumpets the Austin American Statesman. "Soaring price for natural gas a shocker," announces the Detroit Free Press.


I have no idea whether or not there is a shortage of natural gas. But what I do know is that natural gas futures (basis July) have been in a bull market since December 2002, and while natural gas futures registered a new high (a contract high for July) early in June, the trendline that has supported the bull market in natural gas futures since late last year has been penetrated to the downside. Couple this with a plunging MACD and a Herrick Payoff Index that appears to be making a dead-cat bounce in exceptionally negative territory and natural gas traders are either looking at an oversold market that is ready to explode to the upside, or a market that has been in rally mode for six months that is due for a significant correction.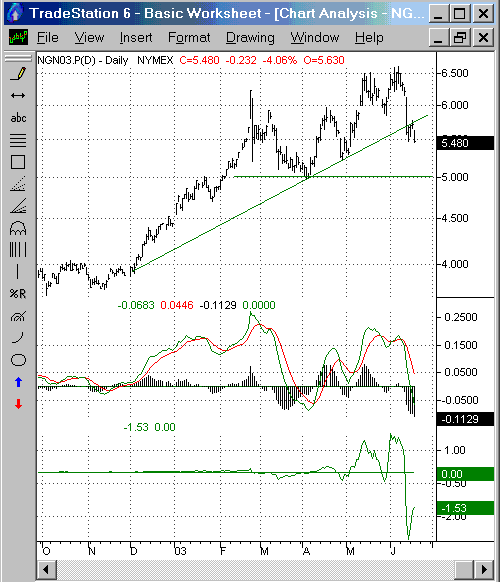 Do a trendline break, plunging MACD and falling HPI suggest lower prices for natural gas futures? Or an oversold opportunity for the bulls?
Graphic provided by: TradeStation.
The arguments for a continued bull market in natural gas over the next few months--at least from the technical perspective--are two-fold. The first is that the market is in an uptrend with higher highs in January, February, May and June and lower lows in early April, late April and (so far) mid-June. The market has also closely adhered to its uptrend line over the past six months, only penetrating it to the downside recently with the mid-June 2003 lows. The second component of the bullish argument is that both the MACD and the Herrick Payoff Index suggest that selling in natural gas futures has been significant; the MACD plunged beneath the zero line recently and the HPI has only now bounced up from exceptionally low levels. These arguments combine to suggest that natural gas may in fact be temporarily oversold and due for a bounce.


The bearish argument against continued gains in natural gas futures are related to the bullish arguments--particularly, the mid-June 2003 trendline break, the plunging MACD and the way the Payoff Index crashed and is only now rising back up somewhat. The MACD histogram has also registered a lower low relative to the previous correction low in mid-March--another relatively bearish portent.


Trader Bruce Kovner makes an interesting point in his interview with Jack Schwager in Schwager's book, Market Wizards. Following through on a question Schwager asks about the relationship between fundamental, news-driven "developments" and any initial move the market makes with regard to these "developments", Kovner suggests that:


The Heisenberg principle in physics provides an analogy for the markets. If something is closely observed, the odds are it is going to be altered in the process. If corn is in a tight consolidation and then breaks out the day the Wall Street Journal carries a story about a potential shortage of corn, the odds of the price move being sustained are much smaller. If everybody believes there is no reason for corn to break out, and it suddenly does, the chances that there is an important underlying cause are much greater.

This may be worthwhile wisdom for those looking to get rich quick on a "can't lose" bet on a shortage of natural gas in the near term.




---
David Penn
Technical Writer for Technical Analysis of STOCKS & COMMODITIES magazine, Working-Money.com, and Traders.com Advantage.
---
Click here for more information about our publications!
Comments
Date:
 06/22/03
Rank:
 4
Comment:
Date:
 06/24/03
Rank:
 5
Comment:
Date:
 06/24/03
Rank:
 4
Comment:
PRINT THIS ARTICLE