PRINT THIS ARTICLE
MONEY FLOW INDEX
---
Money Flow and the Aussie
06/03/03 11:25:59 AM
---
by David Penn
---
Down under and running for cover, the Australian dollar's bull market looks all but over.
Security:
ADM03
Position:
N/A
While the Canadian dollar was the star of the commodity-currency show over the past few months, the Australian dollar has been nothing to sneeze at. The Australian dollar (basis continuous futures) has been in a bull market for more than two years, bottoming in the spring of 2001. Since that time, the aussie has advanced by some 45% against the US dollar.


But as the greenback nears lows not seen since the fall of 1998, it appears as if some owners of Australian dollars are starting to hedge themselves against the possibility of the greenback bouncing. This particular hedge is among the oldest in the book: aussie bulls are taking some gains off the table. This is most evident in the sharp gap down beneath a month-long uptrend line late in May. But it can also be seen in the dramatic shift in the money flow indicator.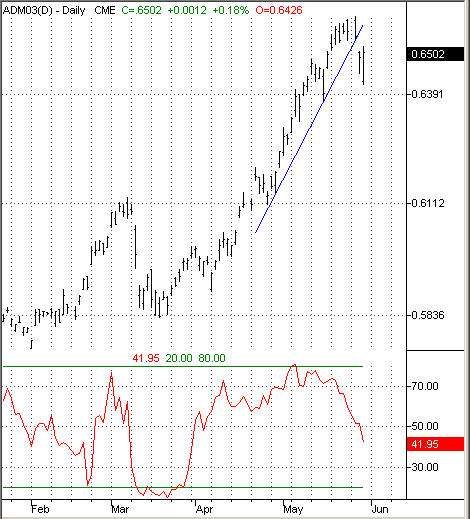 A sharp fall-off in the money flow indicator points toward lower prices for the Australian dollar.
Graphic provided by: TradeStation.
It has been said that what relative strength does for price, the money flow indicator does for volume. As such, money flow can be used to spot divergences between the indicator and price action, as well as function as an index against which overbought and oversold conditions in price action can be determined. For example, the money flow reached especially high levels--overbought levels, in fact--early in May, while the June Australian dollar was racing higher (overbought in the money flow index is at 80).


However, as the June aussie continued to move up, the money flow index continued to move down, finally breaking down by mid-month. Price action in the June aussie broke down shortly thereafter. Thus, in this one example, we see both the oscillator-like capabilities of the money flow indicator (overbought versus oversold), as well as its trend-like capabilities (confirming or non-confirming price action.)


---
David Penn
Technical Writer for Technical Analysis of STOCKS & COMMODITIES magazine, Working-Money.com, and Traders.com Advantage.
---
Click here for more information about our publications!
PRINT THIS ARTICLE