PRINT THIS ARTICLE
CUP WITH HANDLE
---
Advanced Neuromodulation System, Inc. (ANSI) Tries Another Cup & Handle Formation
04/10/03 01:23:49 PM
---
by Gary Grosschadl
---
Cup with handle formations (originated by William O'Neil) are considered bullish continuation patterns.
Security:
ANSI (NNM)
Position:
Hold
This chart shows two cup with handle attempts. Ideally these unfold over longer periods of time, several months for the cup or bowl formation and several weeks for the handle formation before a breakout occurs. The earlier cup and handle on the chart did have about a two month cup and a two week handle. This latest one is forming with a minimum time duration of one month and one week. Ironically, this one seems to be more successful so far despite the shorter interval. One reason is that the stock is not facing any previous overhanging supply since it is trading at new highs.


Cup and handle formations can be explained in the following manner: after a rise, bulls begin to weaken and the cup starts to form on the downside, shaking out weak positions. After the cup bottoms out, similar to a rounding bottom, new bulls start to enter positions. This gives the bowl shape to the cup pattern. Note how the volume pattern also adopts this bowl/cup shape. The handle formation then occurs as traders try to position themselves for a possible breakout. Again in a similar fashion, a dip may develop as weak hands are again flushed out. Finally if all goes well, a breakout occurs on high volume as traders finally see the breakout attempt and jump in with some vigor. As the chart shows, ANSI entered a period of consolidation after the initial breakout and an argument could be made for a failed breakout as it succumbed to previous resistance or congestion. Again as bulls abandoned positions, another bowl formed, similar to the second cup and handle formation.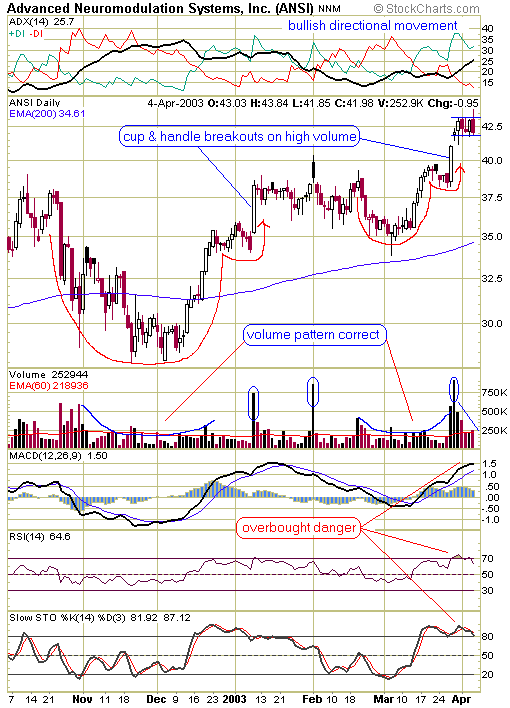 Graphic provided by: StockCharts.com.
Note how the very patient trader would actually have been rewarded for sticking with a long position, that is, if he wasn't stopped out by the one day hammer in early March. This is a good example of a mental stop that was superior to an automatic one. The closing was well above the brief dip down that was designed, in my opinion, to trigger stop-losses. Traders with a mental stop may have given themselves enough slack to avoid the sell but it is a somewhat moot point as traders could have re-entered positions in the days that followed. The target measurement for these formations is the distance from the bottom to peak of the cup on the right hand side as shown on chart. Interestingly, both cup and handle formations point to a similar estimated upside target - between $44 and $45 (36+8 and 40+5). If this is correct the current small flag will break to the upside but may only move a couple of points higher. This does not mean that it won't go higher but does mean a reversal at that point should not be taken lightly by traders wishing to protect profits.


The indicators show that directional movement is still bullish via ADX/DIs, but the indicators below the chart are showing some overbought conditions. Some sideways movement may relieve some of these conditions as the stock pauses in this flag before the next move. Traders should use the eventual break past this small flag as a heads up to the next move.


---
Gary Grosschadl
Independent Canadian equities trader and technical analyst based in Peterborough
Ontario, Canada.
---
Click here for more information about our publications!
PRINT THIS ARTICLE