Description — Bearish MACD Opportunities
MACD: One of the most popular indicators used in technical analysis is the MACD (moving average convergence/divergence). In its most common form, the MACD is calculated by taking the difference between a 26-day and a 12-day exponential moving average. This difference, sometimes referred to as the price oscillator, will vary depending on the momentum of the security. A second line, called the signal or trigger line, is created by taking a nine-day exponential moving average of the price oscillator.
The MACD is a trend-following indicator, moving in the direction of the prevailing price movement. This should be apparent, since it is based on moving averages that are calculated by using a security's price history. Since the price oscillator is the 12-day minus the 26-day exponential moving average, the difference of zero results in a horizontal line. Such a line indicates that the 26-day and the 12-day moving averages are changing at the same rate. In general, the quantity of the difference and whether it is positive or negative show how much faster or slower the exponential averages are moving relative to each other. —Amy Wu, 2001
Articles on MACD
STOCKS & COMMODITIES Magazine!
Simply fill in the form below to receive free access to
digital issues of STOCKS & COMMODITIES magazine.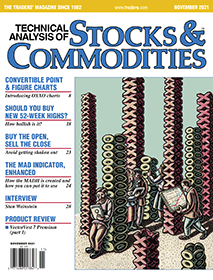 You will be able to access sample digital issues of the magazine online in our subscriber area, as well as articles from our archive. You will also gain access to Traders.com Advantage and Working Money for 30 days.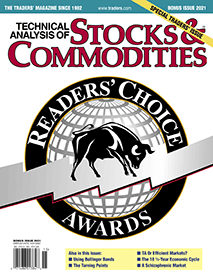 Full subscribers gain complete access to our Digital Issue section, where complete issues of the magazine (including Bonus issues) are available as PDFs.
Subscribers also have access to our Digital Archive — over 30 years' worth of articles, figures, charts and reviews available for download. Finally, a full subscription to STOCKS & COMMODITIES magazine also includes full access to our online publications Working Money and Traders.com Advantage!
Sign Me Up!
Sign-up for trial access to Traders.com and the S&C Archive — 37,000 pages of trading ideas!